Recently UVdesk launched Open Source Helpdesk Ticketing for customer support along with all essential utilities that you can use to develop custom helpdesk fir for your purpose no matter how complex your requirements are.
Free Open Source UVdesk is an advanced, user-friendly and highly customizable helpdesk solution built on top of the reliable Symfony PHP Framework, empowering organizations to provide best customer support.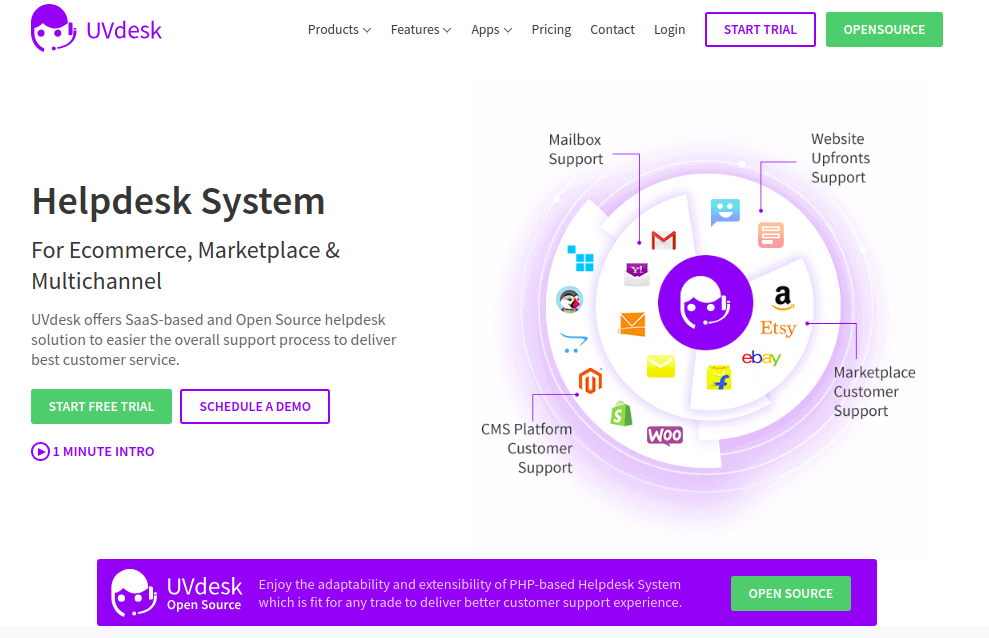 What is an Open Source Ticketing System?
Open Source Ticketing System is the best Free solution for any trade that includes utilities to easier the support operations for agents and brings better customer communication approach in the world.
Many types of industries exist in the world plus every business is unique and their requirement with the helpdesk system can also be different from others choosing the right customer support software is still a big challenge for them.
Helpdesk without any modification cannot be fit for every trade no matter how Standard Features are included in it, customization will be required for sure sometimes very complex and huge too.
Customizations are possible only within the limit if the system is SaaS-Based and this is the point where open source helpdesk systems came into being.
Open Source Customer Support Software enables you to customize the source code to meet with your requirement and high flexibility to increase system capabilities by building integrations or add-ons on it.
Open Source Help Desk gives a complete right that anyone can inspect, utilize or modify the source code to utilize it for their purpose be it building helpdesk for business or building module on the top of it.
Why every business needs a ticketing system?
Every business needs a ticketing system to gather all the inquiries at one place in Ticket Formate the better illustration so that no lead remain unsolved.
Providing the right software to support representatives also important to improve the work efficiency and splitting the work overload for quick resolution of service tickets.
In short to easier and streamline overall support options for agents and enabling customers to raise their concern to get instant solution form the support team.
Let me structure out the requirement in the point below to explain one by one for better understanding:
Complete helpdesk for every merchant
Merchants are the mastermind of business and their prior work is to uplift the business to the next level which is only possible to do with the right strategy, planning, and execution.
Planning and making the strategy to expand the business is time taking process, therefore, answering the query may get you happy customer but not the huge business growth hence using helpdesk system to track support operations can be the best solution.
Ticket Formation to not miss any lead
Ticket Formation and Email Piping sets you free from checking emails all the time plus ensures you that you will never miss out any lead and no lead/query/inquiry/ remain unanswered because every inquiry or request is important for the business.
Converting all the support inquiries coming from different multiple channels at one place into the Helpdesk Service Tickets makes the operations easy for you to provide plausible customer support.
Email piping allows emails sent to an email address configured with Helpdesk Mailbox to be automatically converted into the Service Tickets for the better query management.
From initial Ticket Formation to resolution and closure, the Ticketing System enables you to use smart automation rules for ticket assignment to the dedicated agent for better acceleration of support query using advance statues to save time & increase productivity.
Multi-channel Support at one place
Keeping customer convenience at high priority industries are now enabling customers to raise their support request using any channel to get instant support solution from support team.
Providing multi-channel support, tracking, managing, routing and resolving the queries coming from multiple channels adds an extra burden for owners and support agents.
Checking out multiple channels after every fixed set of time is really tedious work to do it kills the valuable time of support agents and customers both.
In the beginning, it may be easy to resolve the customer query coming from different channels but once your business will start growing owners or agents will start scratching up their heads and the customer will get bullied for not receiving acknowledgment on time.
In such scenario, Open Source Ticketing System becomes boon for agents to integrate multi-channel with one system to convert the queries created as Ticket from where it can be assigned to the dedicated agent for better assistance using Ticketing Tools.
Reduce response rate time with automation
Repeating same work, again & again, kills support agent's time which can be used for customer who is genuinely looking for help applying intelligent workflow to automatically execute operations when defined events or conditions take place.
Ticket Assignment to the respective agent
Auto-Assign Ticket Group, Team, and Type
To Auto-Set Ticket Priority, Ticket Tag
Auto Update Ticket Status
Automatic Email for acknowledgment
Adding Notes on Ticket and many more.
Increase efficiency with ticket management tools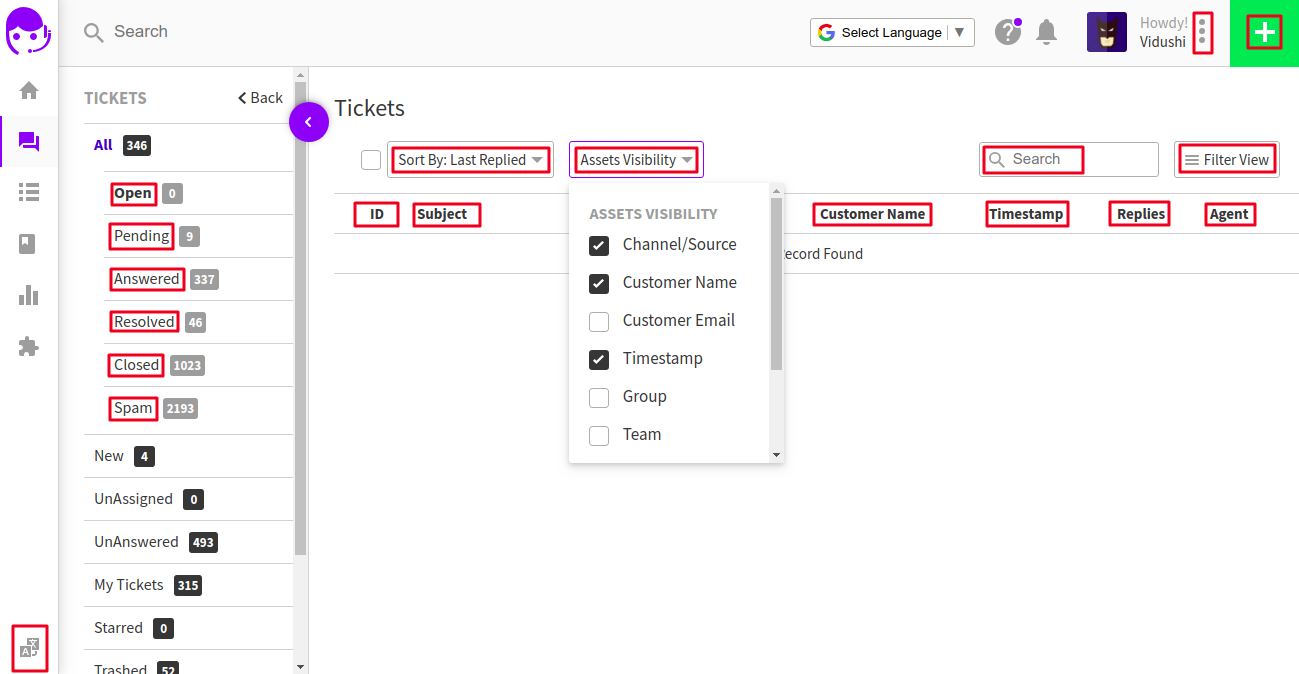 Ticket Management Tool improves support agent's practice and workability to provide an instant solution to their customers which indirectly gives business growth.
Ticketing tool enables the agents to save their time applying reusable saved templates, replies and solutions.
Improving customer satisfaction ratio
Ticketing System Software helps you in every stage to put the Ticket with appropriate status to provide solution accordingly.
Helpdesk includes complete customer information which helps to understand the complete requirement and resolve the concern in one time that improves customer satisfaction.
Easier the self-service for customers
Availability of support staff may not be possible 24*7 better to let your customers serve themselves whenever they require plus reduce the inquiry count by 40% with the well-managed knowledgebase.
Retain customers with right time follow up
Ticketing System Software provides multiple Ticket Status to put the ticket in right one like Open, Pending, Answered, Resolved, Closed or Spam to do the follow up on the right time.
Enhance ticket system's capacity – module integration
Enhance the Open Source Ticketing System's capacity by building or integrating the modules and apps to make it advanced and feature-rich.
Quick Filters and short cuts for immediate results
Customer Support Ticketing Software allows you to get appropriate results using the Quick Filters and short cuts.
Quick results based on client name, client email, agent name, group name, team name, ticket type, ticket tag, replies less than, replies more than, ticket source, mailbox name, before and after the date and many more.
The ticketing features you get with UVdesk Open Souce Helpdesk
UVdesk Open Source is a user-friendly, highly customizable helpdesk solution built on top of the reliable Symfony PHP framework, empowering organizations to provide best customer support.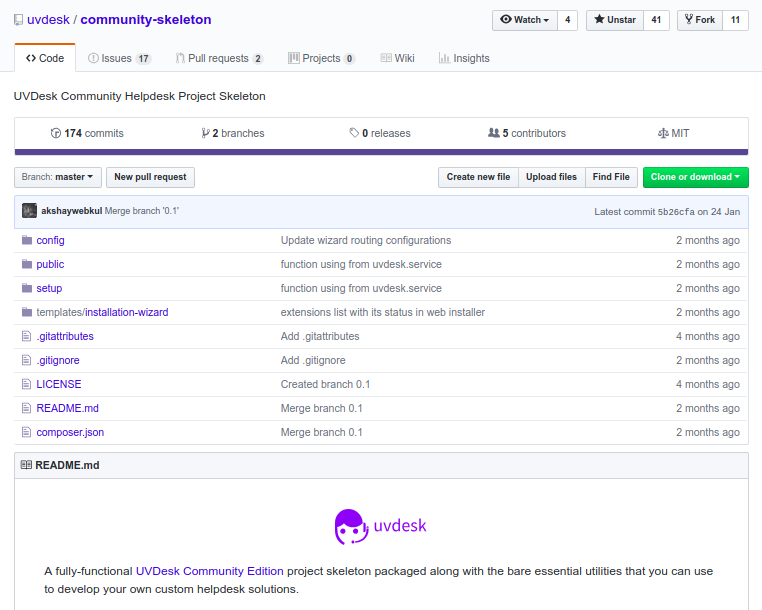 1 – Manage work with smart ticket views
2 – Speed-up the work using ticketing tools
3- Email piping to easier the service for customers
4 – Mailbox to convert emails into tickets
5 – User Management to split the work
6 – Unlimited agent-group-team creation
7 – Saved Replies to save time
8 – Branding to fully transform your portal 
9 – Intelligent workflow for automation
10 – Personalized helpdesk for agent & customer
11 – Designed record of all the data & conversation
12 – Appropriate customer information on ticket
Hurry up to Install  – UVdesk Open Source Ticketing System for free and join the community to make this Enterprise Helpdesk more feature-rich and fault-free!!!
For any further doubt or query, please email us at support@uvdesk.com and we will surely come up with the best solution possible.