Utilizing Open source software as a helpdesk for your online business is not only keeps the cost down but also raising the faith among your customers as it's much secure rather than proprietary alternatives that truly helps to keep stay on this cutting edge marketing world.
As your company grows, your support staff has to do multitasking work because now your customer base is double or maybe triple.
Manage, revert and track support requests within less time period only possible with a scalable, secure and fast well coded open source helpdesk software.
Enterprise online business?…………….High volume of customer inquiry?………….Huge agent count?…………Yess!!!!! You gussed right – Only Open Source Helpdesk works for you.

Let's have a look at some of the highlights of Open Source Helpdesk – UVdesk:
Open Source Help desk : 100% Free
All business either small or medium now rely on helpdesk software to make all support process faster and automate. Couple of helpdesk system like Freshdesk, osTicket and Zendesk can easily found in market but those all are too expensive plus complex to handle.
It's pretty much sure that highly paid helpdesk system eat a big portion of your budget when you are running a enterprise business.
let's suppose an example you have started a small company or for startup basic plan may works but whenever your business will grow you require more features and more agents. Sometimes it's need to do customization.
You can even check the pricing of Zendesk helpdesk from below, its start from $5 whether you are using basic features: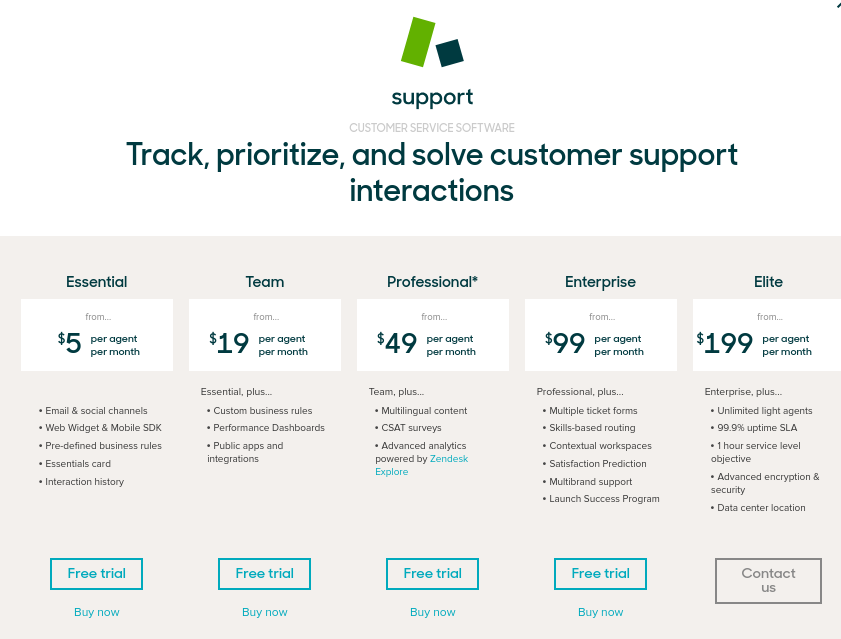 In short, You need to pay for separate feature which you have required plus for customization too. In some cases customization won't be possible or complex if your helpdesk is SaaS or Cloud based.
However, in open source customization, modification and updation easily possible to fit as you want. Thus we have built a Free dynamic Open source helpdesk software – UVdesk supports LAMP/LEMP stack and built on Symfony/PHP Framework.
Yes!! it's totally Free of cost………:)
So, why you are investing too much money when you can get a fully functional helpdesk software with no price. In addition, it allows users to deliver best customer experience as in own way.
Open Source Help desk : Source Code is Open
As source code contains all the programmed code, components, scripts, and API's used to allow your helpdesk to run. So you can add any component, upgrade the helpdesk and fix any bug anytime when you will be needing.
Changes and modification in the UVdesk community skelton bundle is quite simple and easy. So one can built any custom helpdesk as per their business need.
Some Key Factor Of Source Code:
No need to rely upon any service provider.
No further charges required for maintenance.
All code is in your hand so timely updates of solution at their own will.
No need to rely on someone else to fulfil their technical needs.
When changes is needed, you have the freedom to fix it.
No need to wait for a service provider to release and updated the version of the software.
Open Source Help desk : All Standard SaaS Features
Every helpdesk has specific features itself thus they are unique and exclusive to others. Although few helpdesk features are essential and must need if your aim to keep stand among in this competitive market.
Thus UVdesk offers all standard features in open source version which is widely offering is SaaS. Here I am drafting out all amazing feature which have added in UVdesk Open Source Helpdesk: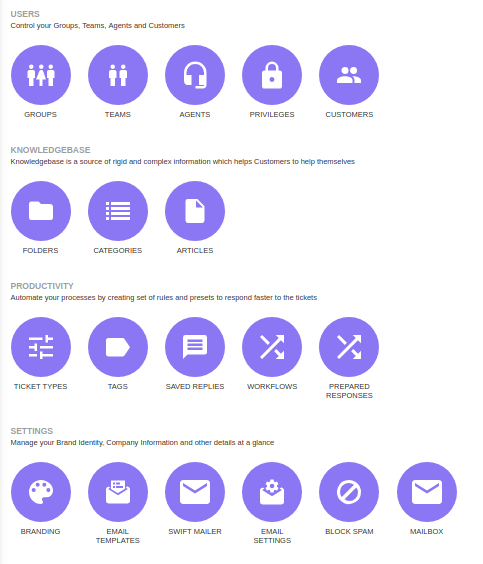 Save Time with Saved Replies
Smart Workflow for Automation
Personalized helpdesk for Agent & Customer
Manual Workflow – Prepared Response
Convert all email as a Ticket – Email Piping
Appropriate Customer Information on Ticket
Transform Support Helpdesk Portal in any Theme
Module Integration
Customer can Track Ticket History by Login their Portal
Quick Filters And Short Cuts For Immediate Results
Self Service Portal – Knowledgebase
Open Source Help desk : Unlimited Support Agent's
Could you imagine how many support staff is needing to provide the support for large business likewise – Uber, Honda, OLX and CocaCola or other enterprise business.
According to the Wikipedia 4000+ sales rep is delivering the support for OLX, which is really a big count. Therefore, OLX doesn't use any proprietary helpdesk software and efficiently managing all the support staff task in a good manner with no extra cost.
If you are having the same count then you should work around a open source helpdesk software which allows you to create multiple agent's, groups and teams to control your overall support process easier.
Open Source Help desk : Well Structured Knowledgebase
Not only smart applications will help to solve the customer support inquiry faster but also a well optimized knowledgebase helps alot to minimize customer query without involving any support staff help.
Now in this traditional world, Customers are smart and they would love to solve the query by themself. So, before contacting to support team very first they prefer to search answer through knowledgebase or FAQ.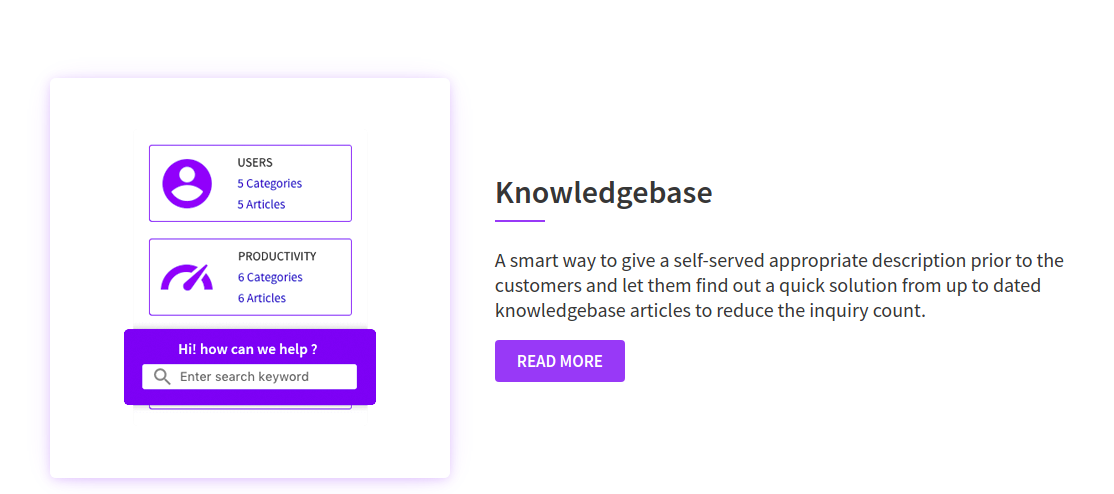 Therefore, Knowledgebase is a primary advantage, which increase efficiency and productivity of your business that engage the customer towards your service.
In addition, experience employees can put all the information regarding the product and service at one place and share the such knowledgebase URL with anyone as it's feed on google.
Open Source Help desk : Highly Scalable/ Extendable/ Secure
In the early stage, when customer inquiry is light then unscalable helpdesk software may work at this stage. But every trade entire the world intended to earn and expand with the large customer base which is not possible with bad coded or bloated system.
Writely coded, scalable and secure heldpesk is highly important to rely upon helpdesk system because it contains the client personal information like card details, server information, financial details and much more.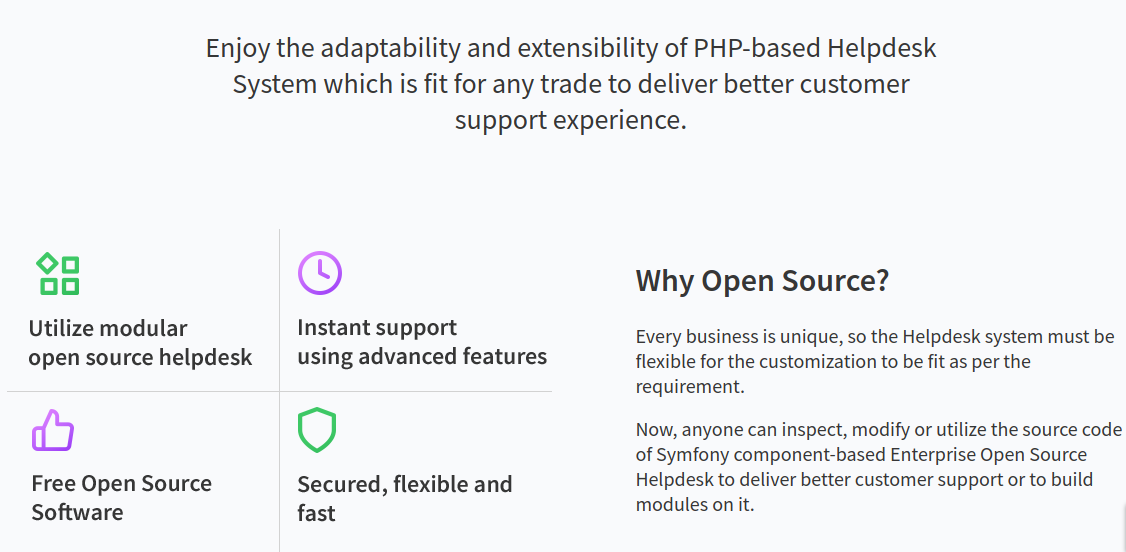 However, we understand all the prespective that's why we have taken this very seriously thus UVdesk is built on the standard of OWASP (Open Web Application Security Project) and support security threats like SQL Injection, XSS, CSRF, Client and Server Site Validation, and many more.
In addition, we are constantly updating our helpdesk software to make it fit for every business.
Conclusion & Support
UVdesk is built on Symfony Based Arcticuture plus we've applied LAMP/LEMP stacks to make the UVdesk Open Source fit for any environment for the easy setup and host on any hosting supports LAMP/LEMP.
Utilizing Free Open Source Helpdesk any individual can create powerful custom helpdesk to deliver fast and efficient support.
Get Install – Open Source Helpdesk and Mailbox to configure support email address.
We wish you to join the community to make this Enterprise Helpdesk more featureful and fault-free check out the link — https://github.com/uvdesk/community-skeleton
Enjoy the versatility and extensibility of PHP-based Helpdesk System to be fit for any trade to for delivering better customer experience.
If you have any query feel free to ask your e-commerce evangelist is ready to help raise your concern at support@uvdesk.com or refer the link. Stay tuned for more updates with UVdesk opensource helpdesk …!!!