If you're on the hunt for an all-in-one customer helpdesk software but you're not yet ready to pay up for enterprise software. Maybe you have a small business or you don't have enough budget to afford at this stage.
Whatever your reason, we have covered in this blog, keep reading till the end 🙂
Well, to provide an instant response, collect, manage, and route the query to the right support agent for better query handling, the right support helpdesk ticketing system is required.
But thing is that finding the best-suited helpdesk system can become a challenge when there are now so many different options available. Almost are higher-paid, not affordable, or not exactly sure what features included in it.
Today, in this blog we will dive into the major affordable helpdesk software platforms along with bit review about their pricing, offer features, and other concerns to consider.
Cheapest Cost-Effective – Helpdesk Directory in 2021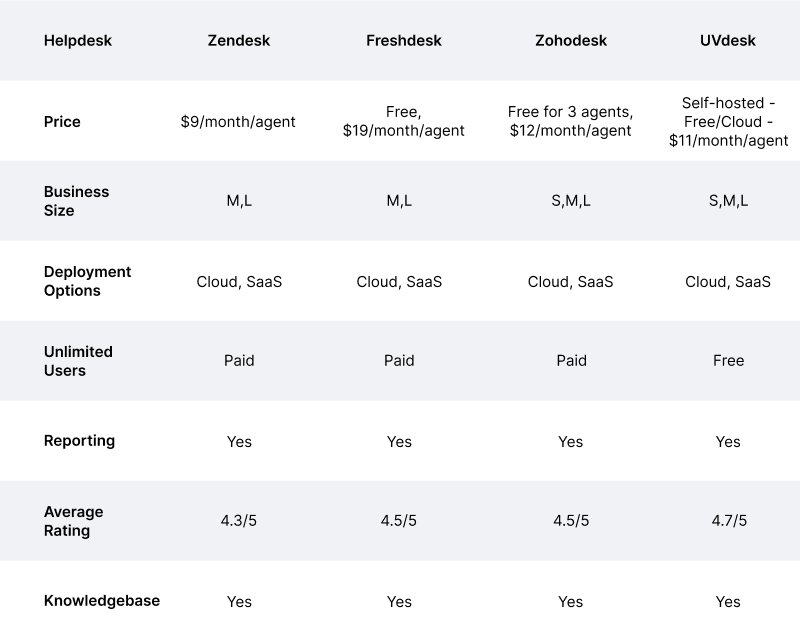 #1. UVdesk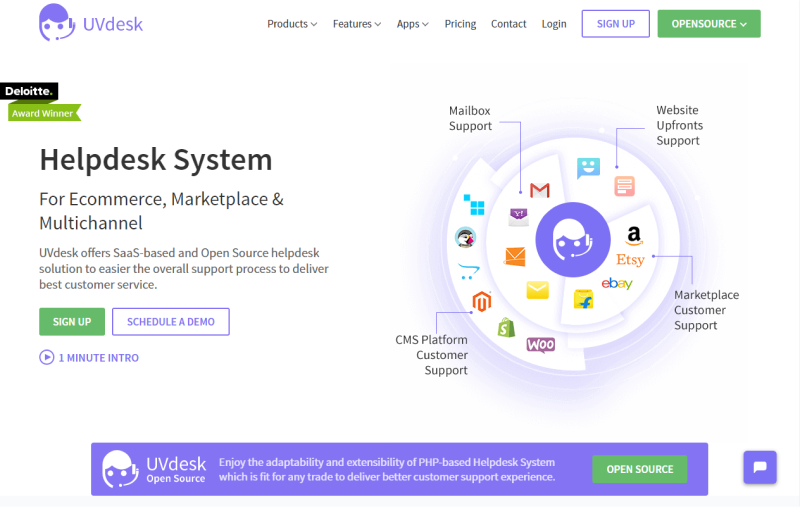 Till now UVdesk is known for the reasonable pricing of SaaS-based helpdesk built for startups and small businesses.
The best thing with the cloud-based helpdesk system is that you don't need to invest in servers or pay for the installation.
It lets you pick a helpdesk plan, sign up, and get on. UVdesk also provides a self-hosted solution that is available at no price that means it's absolutely FREE forever.
You don't need to pay for a subscription or license renew every year. Along with you will have the freedom to inspect the script to make it suited for your business needs.
Top Features
UVdesk is packed with a ton of free features including:
Automated workflow
Custom Knowledgebase/FAQ panel
Predefine email template
Canned Responses
Integration with email and social channels.
Custom Branding
Easy and user-friendly interface
Reporting insight
Not complex
Email and ticket management
Prepared Responses
Follow-Up
and much more
Pricing: Self-hosted plan is Free for unlimited agents and the paid plan starts at $8/agent
Offer FREE 30 Day's trial – https://uvdesk.com/en/member/signup
Feature-Compare list –  https://www.uvdesk.com/en/feature-compare/
Official Website – https://www.uvdesk.com/en/
What Reviewers liked: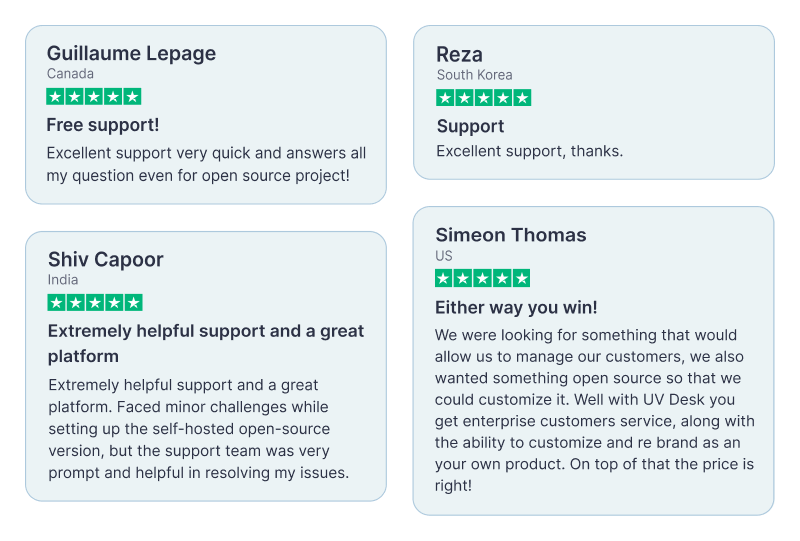 #2. Freshdesk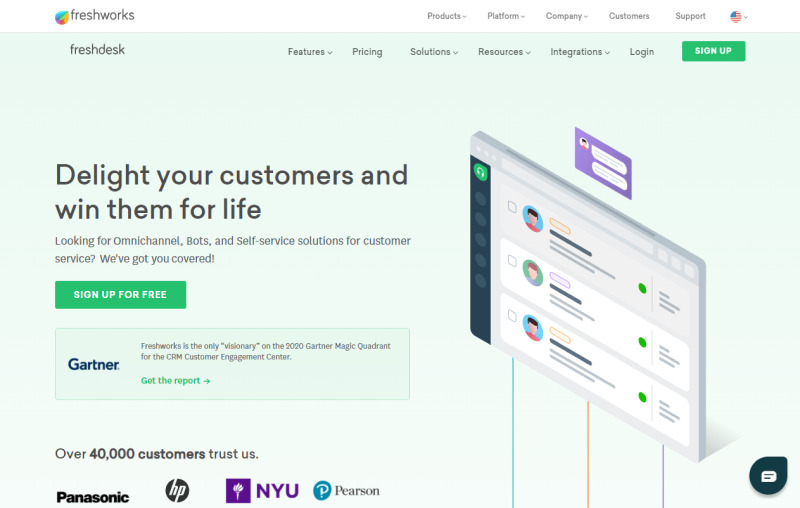 If drive multichannel support is a high priority for you, you might want to give Insightly a try; it offers multichannel capability helpdesk including email, phone, social media and chat in one package.
One of its more interesting features is Gamification which helps to improve agent productivity. However, it has a set of pricing buckets for different businesses but key features such as social media integration, chipboard, phone in only available at a higher price.
So as soon as you add a multichannel feature or get leads you must require enterprise plan pricing for the full feature set.
Pricing:
Sprout – $0 – Unlimited Free Agents.
Blossom – $25/agent/mo.
Garden – $44/agent/mo.
Estate – $59/agent/mo.
Forest – $99/agent/mo.
Signup For a Free 21-Day Trial – https://freshdesk.com/signup
Official Website – https://freshdesk.com/
#3. Zendesk

A customer helpdesk software application by Zendesk is designed for businesses of all sizes. Although this software is typically associated with larger businesses and enterprises.
Further, Zendesk has one of the most modular solutions that allow you to use only the functions that you need at a suitable price.
The downside to all of this functionality is that Zendesk can be complex and a bit costly to work with at first. Over the last year, customer opinions of Zendesk grown negative they found that Zendesk is overpriced and having terrible customer service.
On the plus side, the company offers a comprehensive free trial for each tier to get you up to speed with the features.
Pricing: Zendesk plan starts at $5/agent
Offer FREE 30 Day's trial – https://www.zendesk.com/register/#step-1
Official Website – https://www.zendesk.com/
#4. Zoho Desk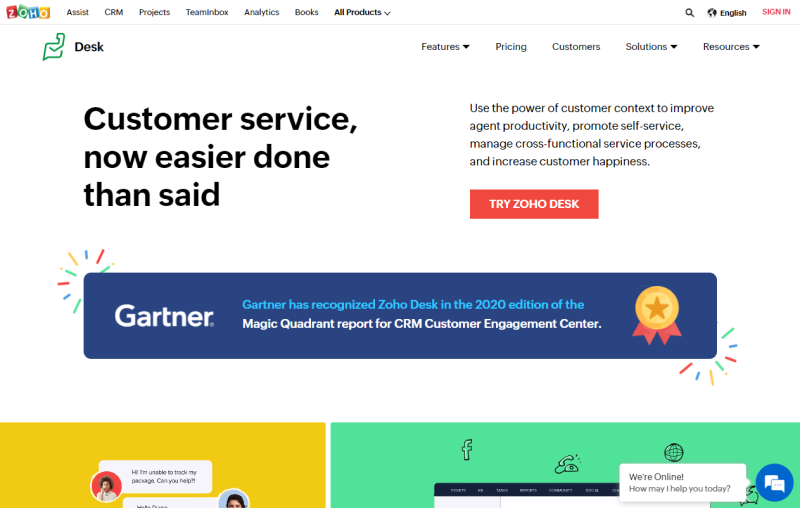 While there is a basic free plan for up to 3 users, you'll probably want to pay up and choose one of Zoho's reasonable plans so you can take advantage of more of its features such as automated Supervise Rules, SLA & escalations, knowledgebase, etc.
Apart from that, Zoho provides a good variety of analytics, including live dashboards and integrated with social channels Facebook, and Twitter at one interface.
Pricing: Free plan for up to 3 agents and paid plan starting at $12/agent
Offer FREE 15 Day's trial – https://www.zoho.com/desk/signup.html
Official Website – https://www.zoho.com/
#5. Spiceworks

Spiceworks main aim to equips your IT team with the tools they need to resolve tickets efficiently. Spiceworks as a comprehensive solution for both asset management as well as help desk support.
It focuses on the people doing work around the IT industry to track technical issues and manage IT support tickets. You will get the level of functionality provided for FREE with Spiceworks.
Insight also offers seamless integration with AD(active directory) as well as email services like Gmail, Yahoo, etc.
Official Website – https://www.spiceworks.com/
Bottom Line
I wish at the end of this article you have got a great list of the cheap customer support ticket system.
You may choose any from the list base on business size. Medium to large enterprises that can go for the premium options as well, which offer a huge agent base, many more features, and a mega knowledgebase as well.
If you have any suggestions or insights, you can write them in the comments below or you can reach out to us at support@uvdesk.com