When it comes with "Free Plan" which doesn't work actually because it limits you somewhere either for agent count or might on the number of tickets.
Indeed !! there will be less chance to have only one agent for any business, obviously, it will be greater.
And, per agent cost will take a huge part of your budget which you can be invested somewhere else.
Here is the only one solution i.e Free Self-hosted Helpdesk Software where you don't need to pay for agent wise as well as for ticket count.
Only a few helpdesks are available which is pure web-based free Open Source oriented else almost take charge of common features.
Drafting out Top 3 Free Open Source Help Desk for Bettering Customer Support Process below:
                 Top 3 Free Open Source HelpDesk software in 2021
UVdesk Open Source Help Desk 
UVdesk community helpdesk project skeleton packaged along with the bare essential utilities and tools to build and customize your own helpdesk solutions written in PHP language.
This PHP based ticketing system is by far the most powerful yet intuitive and exciting Open Source project of 2021.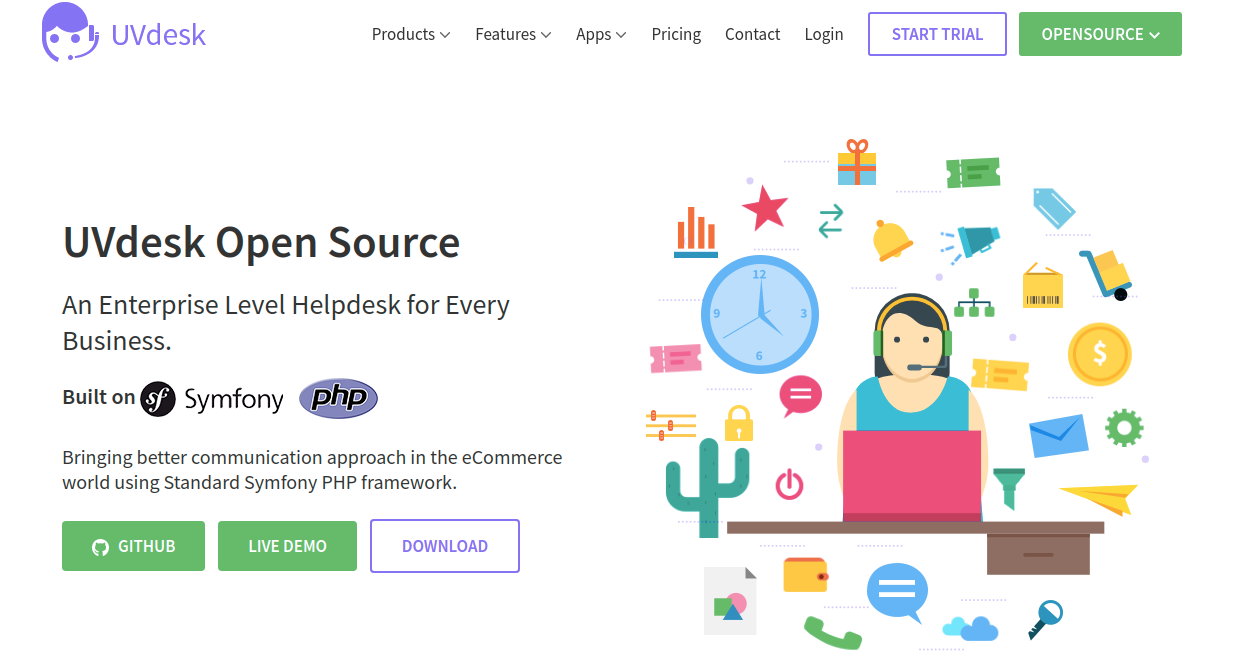 Link –  https://www.uvdesk.com/en/opensource/
Github Repository – https://github.com/uvdesk/community-skeleton
Forum – https://forums.uvdesk.com/
Pros
Built on top of Symfony/PHP framework
Easy to customize & extendable
Using MySQL Robust database management system
Easy to set up email piping/email ticketing system.
Support Custom workflow
User can create own modules on it.
Using a Web application environment with LAMP stack and the next generation of PHP version 7
Any LAMP stack developer can easily contribute.
Developers don't need to do an extra effort.
Capable of handling new applications.
Cons
Although most of the applications are there but few are missing.
More community engagement required.
OsTicket

Open Source Help Desk 
osTicket is a widely-used open source support ticket system. It seamlessly integrates inquiries created via email, phone and web-based forms into a simple easy-to-use multi-user web interface.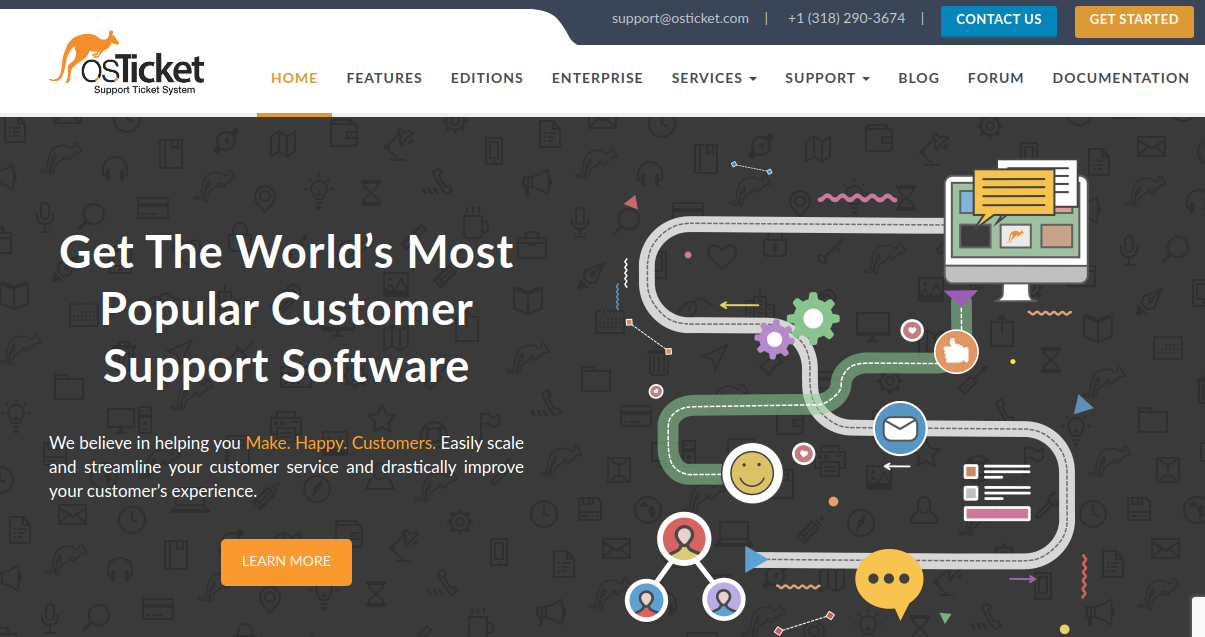 Link – https://osticket.com/
Github Repository – https://github.com/osTicket/osTicket
Forum – https://forum.osticket.com/
Pros
This is the best significant advantage i.e OsTicket is free to use.
OsTicket has a large community that works together.
Continuous update and modification.
Built using PHP language and MySQL database.
It's secure and scalable, as it uses the LAMP stack.
Cons
Still, they are not using a composer based system for dependent management.
It doesn't follow any framework architecture therefore customization can be a little hard.
You need to set up again and again for each customization.
They don't have any custom workflow management.
There is no application for the marketplace & eCommerce yet.
Zammad Help Desk
Zammad is a web-based open source helpdesk/customer support system. It ships in with a multitude of features for handling customer communication.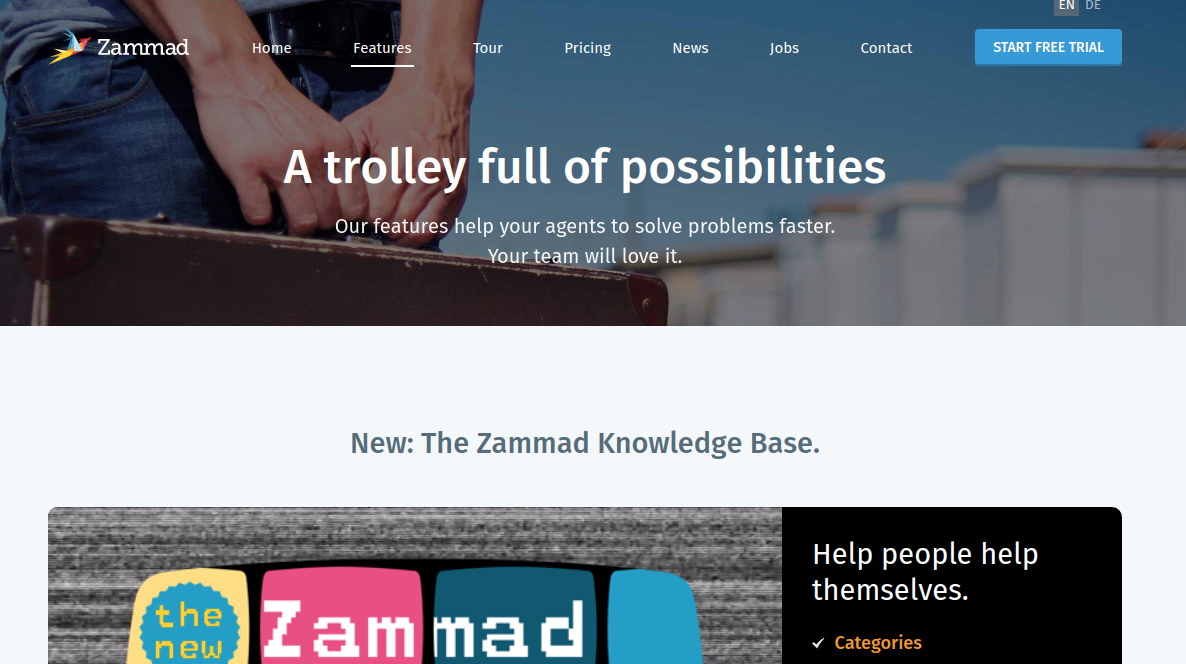 Link – https://zammad.com/
Demo – https://github.com/zammad/zammad
Community Support – https://community.zammad.org/
Pros
Up to date documentation
Build using Ruby language.
They have an active & large community within less time.
Continuous updates make it more popular.
Cons
This is not built on PHP.
Developers need to learn Ruby for any customization, although they offer API for PHP.
They have a lot of issues on Github.
A bit complicated to set up.
Support
Keep delivering the best customer support by choosing the right helpdesk tool for your business 🙂 Hope it will be helpful for you or if you have any issue feel free to raise a ticket from here.