Today's Amazon is the most trending and highly successful selling platform. Almost sellers have their seller account on it. This is obviously due to oversimplification and less convenience.
When it comes to online ratings or feedback on Amazon, the seller always benefits. Mouth marketing is something by which they can improve their product visibility, merchant credibility, and conversion rate at very less cost.
Benefits of ratings for Consumer and Sellers:
More feedback mean more sales.
Enhance customer service experience.
Boost your sale with a higher rating.
Improve customer engagement.
Customers can clear their doubts before purchasing.
More interaction of customers towards the business.
Increase product visibility.
Established more trust in product and service.
Enhance SEO with less effort.
Easy way to get about product quality and service.
Amazon Seller Rating
On Amazon, customers can leave feedback on the product which they have purchased and on seller about the service (how they performed).
Below in the screenshot, you can see Amazon seller rating (Negative, Neutral and Positive):. With that shoppers can observe your business.
The customer rating is vital if you want to increase the sale(and want to win Amazon Buy Box). Research says, 90% of sale occurs due to higher ratings.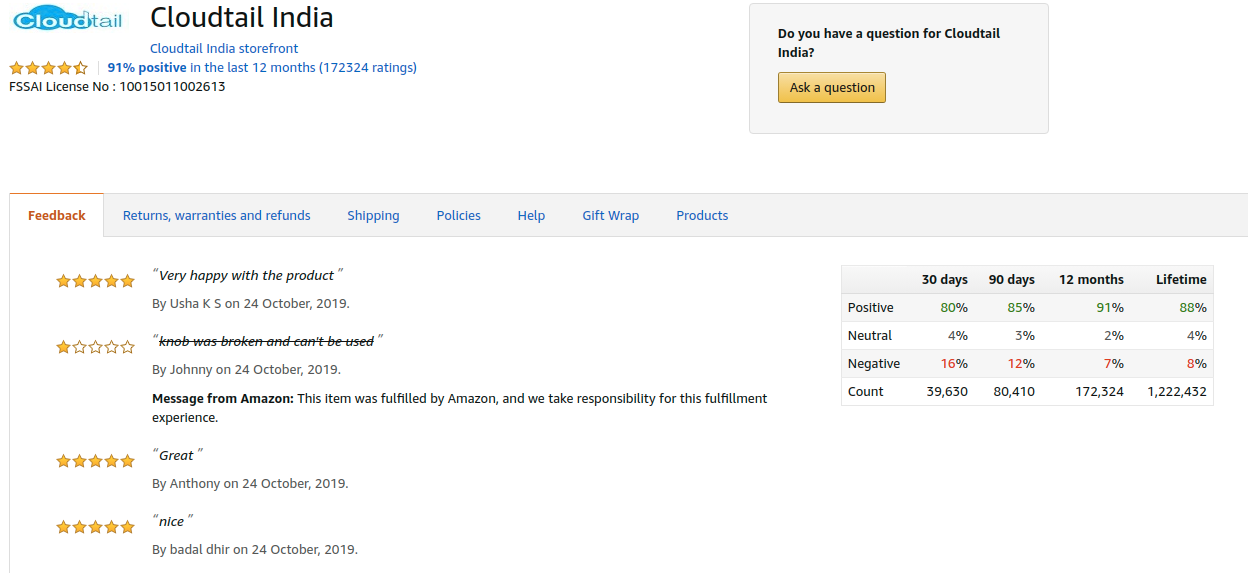 To help you with the learning curve, below are a few things that will add to your customer rating 95% and above:
#Follow Official Rule
Becoming a top-rated seller is a key to success to win more Buy box(on seller performance criteria), to get you should accept and follow Amazon official rule. Amazon restricts the sellers from encouraging positive ratings. Here is some set of protocol set by Amazon:
You may not attempt to influence or inflate customers' ratings, feedback, and reviews. You may request feedback and reviews from your own customers in a neutral manner 
Amazon rule stats that all sellers don't have the permission to ask directly to leave positive feedback, Although, you may request feedback from customers that should in a neutral manner plus the seller can't offer compensation in exchange for the positive feedback.
#Request for Positive Feedback
The idea of sending Amazon feedback request is the best way to bring more feedback. Generally, Amazon already sends automated emails for asking the feedback on purchased products which can easily ignore by buyers.
Almost sellers prefer to send the feedback request and further communication with shoppers by own personalized email through Amazon Buyer-Seller Messaging Service that add a personal touch to customer. By tapping on the message button allows the seller to communicate with shoppers.

source: salesbacker.com
If you didn't get yet, you should remind them and can follow up with proper feedback email then you will practically be guaranteed boost in positive feedback.
#Provide Excellent Customer Service
Customer service is the key to good feedback. One of the biggest challenges in online business is to make the customer happy by delivering efficient or quick customer support. Customer support is the core of every business, that brings more customer ratings.
Being a seller you should know whenever customers meet your brand, you need to make an impression and provide the best customer experience that drives customer loyalty and grows sales so far.
80% of Amazon sellers believe that catching positive feedback requires prompt and quick customer support. Shoppers won't appreciate your business and raise ratings until you will not respond to them quickly.
#Integrate Marketplace with Helpdesk System
Getting more positive feedback without omnichannel helpdesk software seems quite tough when your customer inquiry base getting an increase. Well, Amazon provides a great platform for sellers to communicate with shoppers and resolve their inquiries at the same place.
Although for starting you could answer customer queries easily through Amazon itself when it's growing then you must require a standard fully functional helpdesk system which helps to make the whole process automate, effective and intuitive within less time.
The number of helpdesk offers multichannel(Marketplace, Social, Email, and eCommerce) integration, but few are marketplace oriented so if your aim to compete in this cut-throat eCommerce world then a helpdesk system should be there.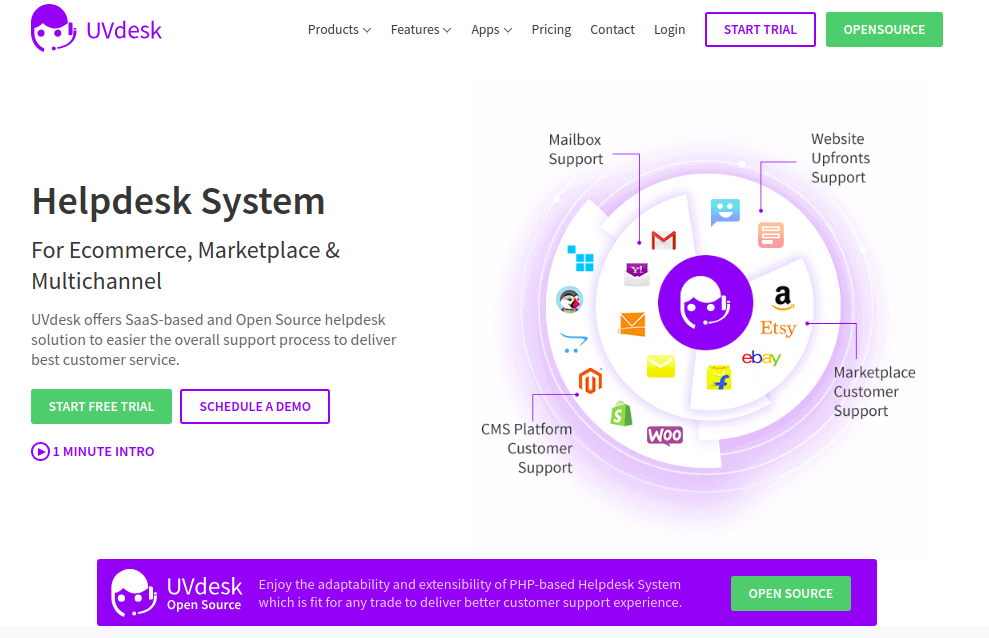 UVdesk Helpdesk is by far the best Marketplace helpdesk software that enables sellers to manage Amazon customer inquiries coming from Amazon seller central directly through the helpdesk system. This helpdesk system allows the seller to integrate any number of Amazon account with one existing helpdesk system.
#Observe the Quality of Customer Service
Seller performance plays a vital role in order to improve positive ratings. However, Amazon already established a set of targets for sellers so that trust can be built b/w shoppers and third-party sellers. This may reflect customers towards leaving positive feedback definitely.
All sellers should be working toward achieving and maintaining a level of customer service that meets the following seller performance targets for every product they sell:
Order defect rate: < 1%

Pre-fulfillment cancel rate: < 2.5%

Late shipment rate: < 4%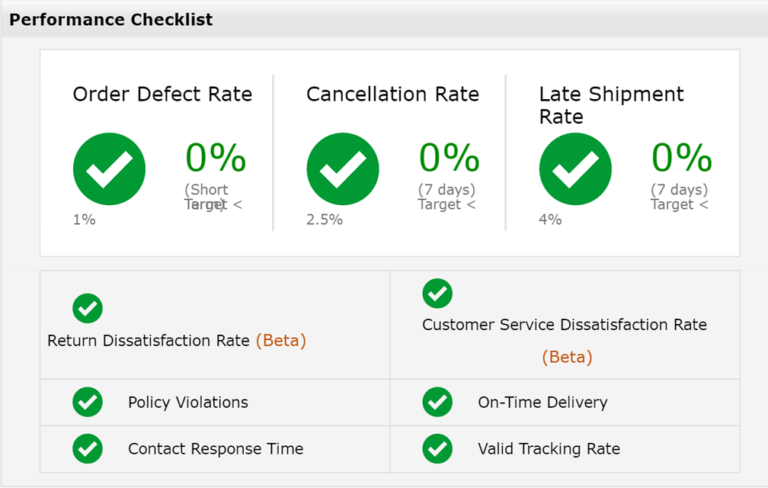 Amazon provides the option to check performance for sellers through seller central. The seller can easily track the quality of customer service i.e ample for positive feedback.
The below screenshot shows the navigation from where the seller collects target matrics and compares their own performance gets better feedback from buyers.
#Bottom Line & Support
Buyers won't comfortable to buy from you if you have a low Amazon seller rating. Product visibility also may minimize due to the Amazon algorithm. Thus we've come up with the above practices which helps you to encourage positive feedback.
If you have any query feel free to ask your e-commerce evangelist is ready to help raise your concern at support@uvdesk.com or refer the link. Stay tuned for more updates with UVdesk Marketplace Helpdesk …!!!