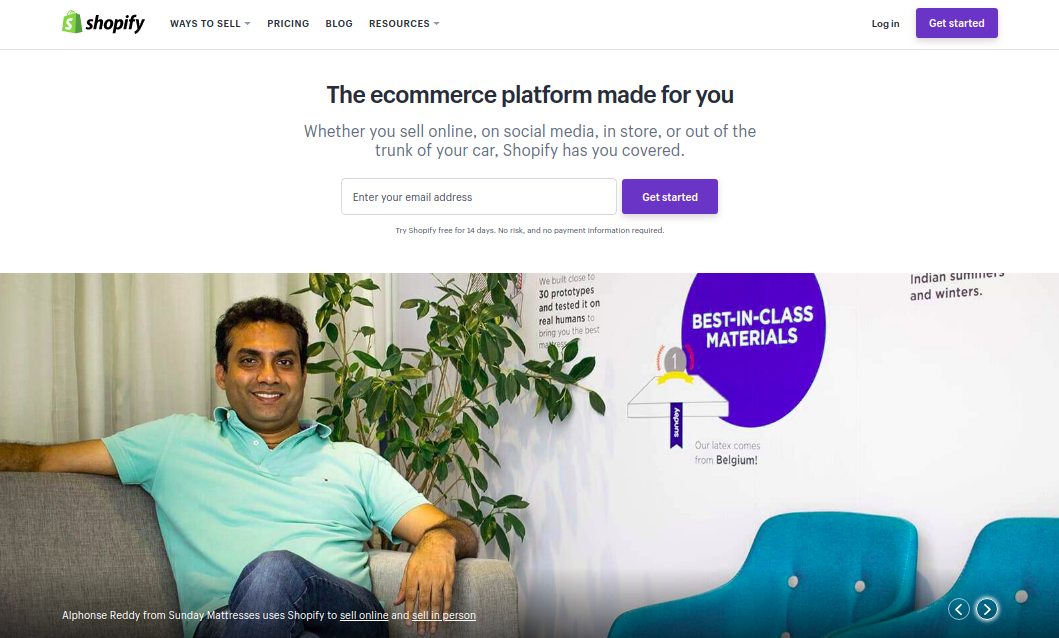 Integrate UVdesk Shopify Helpdesk to deliver excellent customer support. As Shopify is already most preferred SaaS-based complete e-commerce platform which allows you to set up the online store to sell goods. 
Shopify offers diverse handy tools and apps to make your online store perfect. It is easy to use, highly customizable and paid e-commerce platform which has become the prime choice for the business owners, online sellers, and retailers.
Being an online retailer/seller/business owner at Shopify you will start getting customers at your store, at the initial stage, it would be fine for you to manage your customers.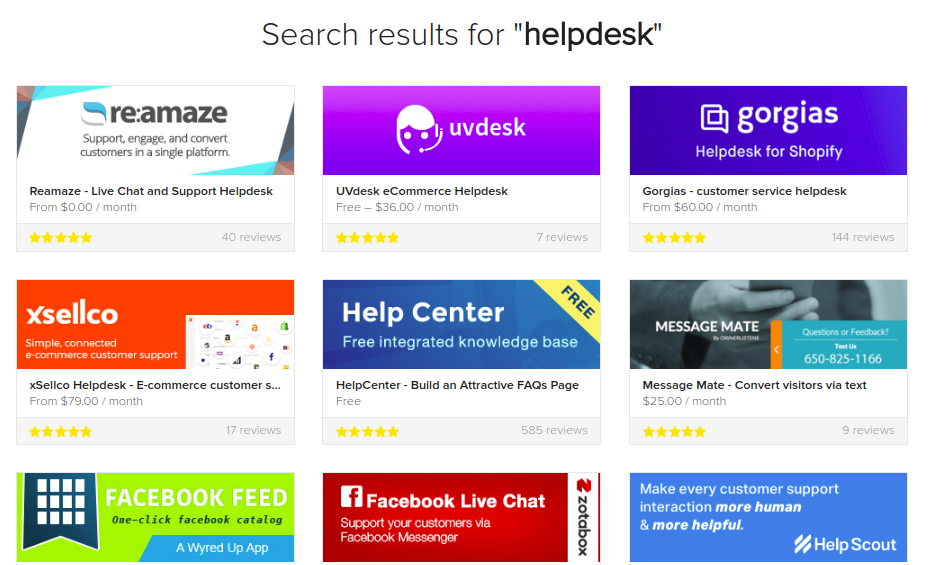 Using the apps of Shopify you can run your store smoothly and can make your operations easier. But the strength of your customers grows as per the growth of your business then it wouldn't be easy for you to manage your customers and solving their raised concern.
Customers are the key to thrive in any business so right time follow up and solving their raised concern can be the biggest marketing point to get positive reviews which will build trust to the coming new eyes.
Managing 1000's of Emails, Facebook, Twitter, YouTube, Slack, Disqus Comments/feeds/tweets, Customer's Order Details, Query, Feedback, Attachments.
Typing the same reply multiple times, Perform task after every certain amount repetitively will definitely be hectic for you.
Suppose you are selling on various marketplaces and you are not using helpdesk then most of the time you will end up scratching your head.
Bunch of Helpdesk Systems are available, you can pick one of your choices to integrate that with your store.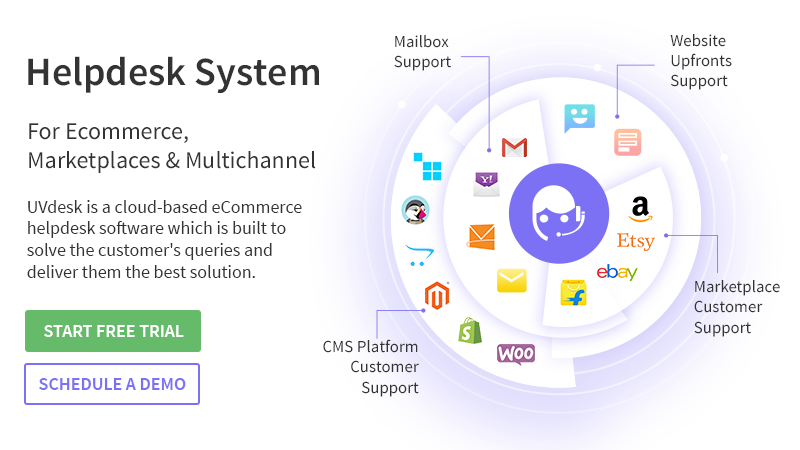 In Shopify App Center type find UVdesk eCommerce Helpdesk and integrate it to let your customers raise Ticket to get prompt and reliable support.
Features of Shopify Helpdesk:
After Integration registered customer will be able to Create Ticket for their query from Shopify Store Front.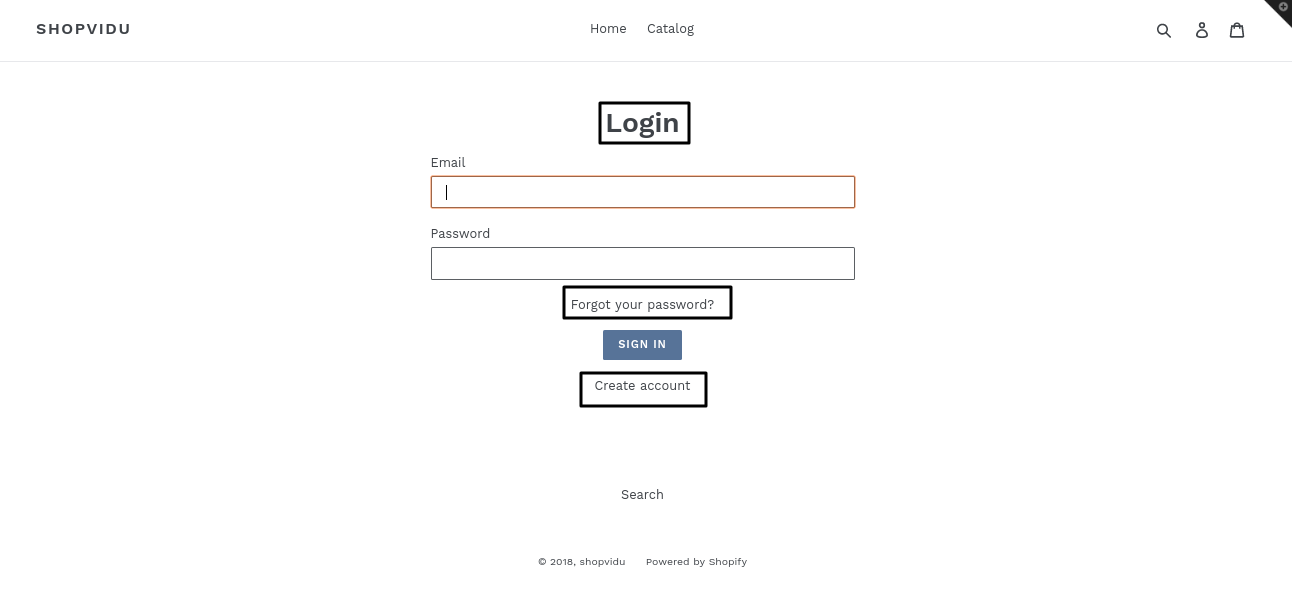 After login Customer will be able to get their own Ticket Panel to view all inquiries and support tickets in one place.

Customer Ticket View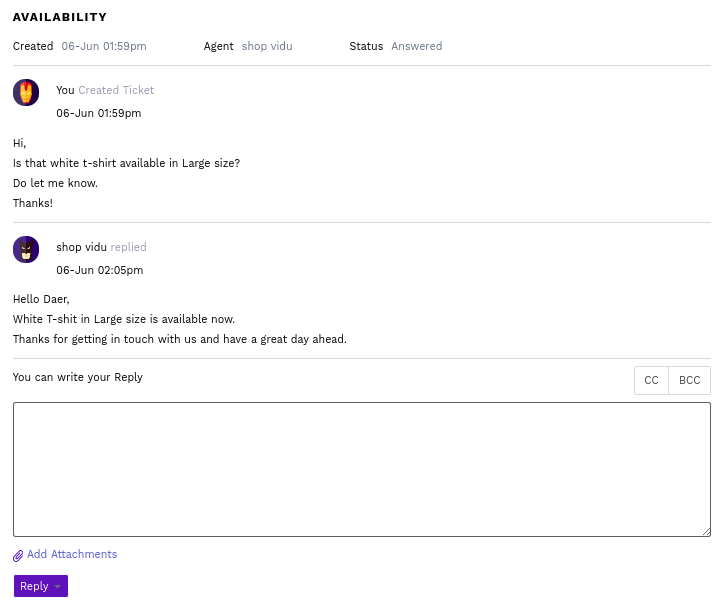 Store Admin or assigned support team will be able to reply Ticket from Shopify Back Office and UVdesk Account.

Admin can set Asset Visibility for Customer Ticket List and Admin Ticket List.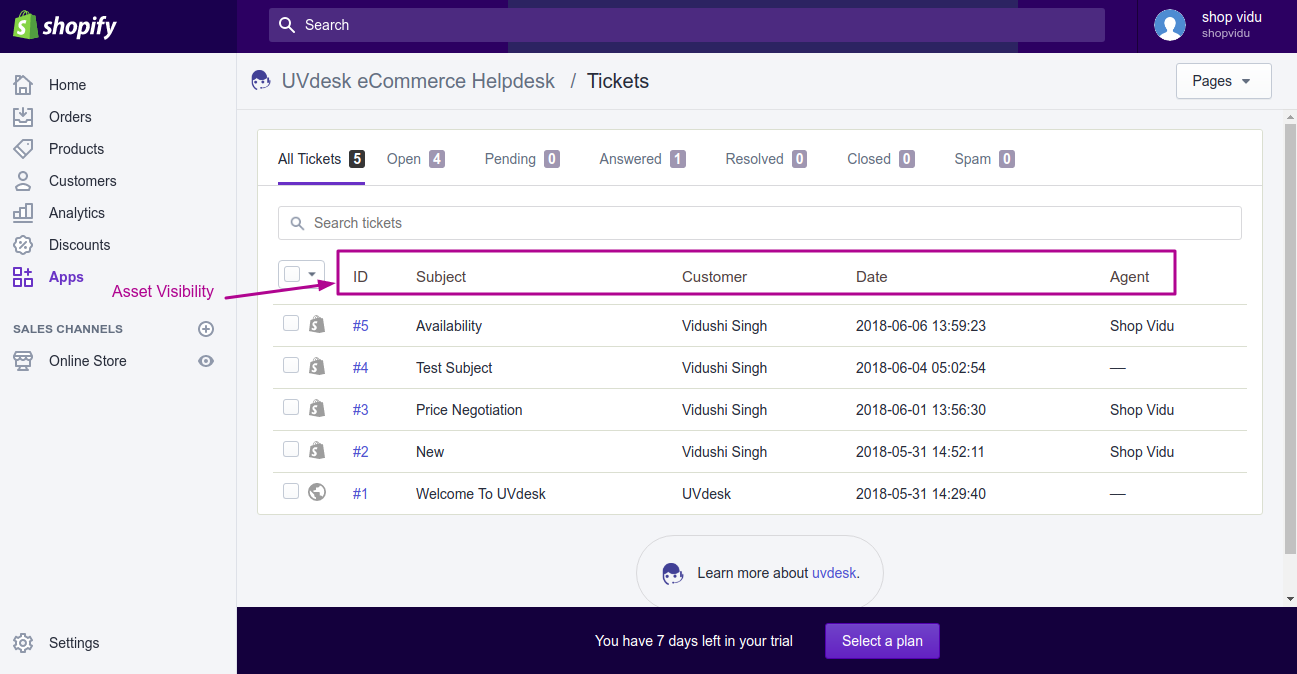 Admin can enable or disable customer login option.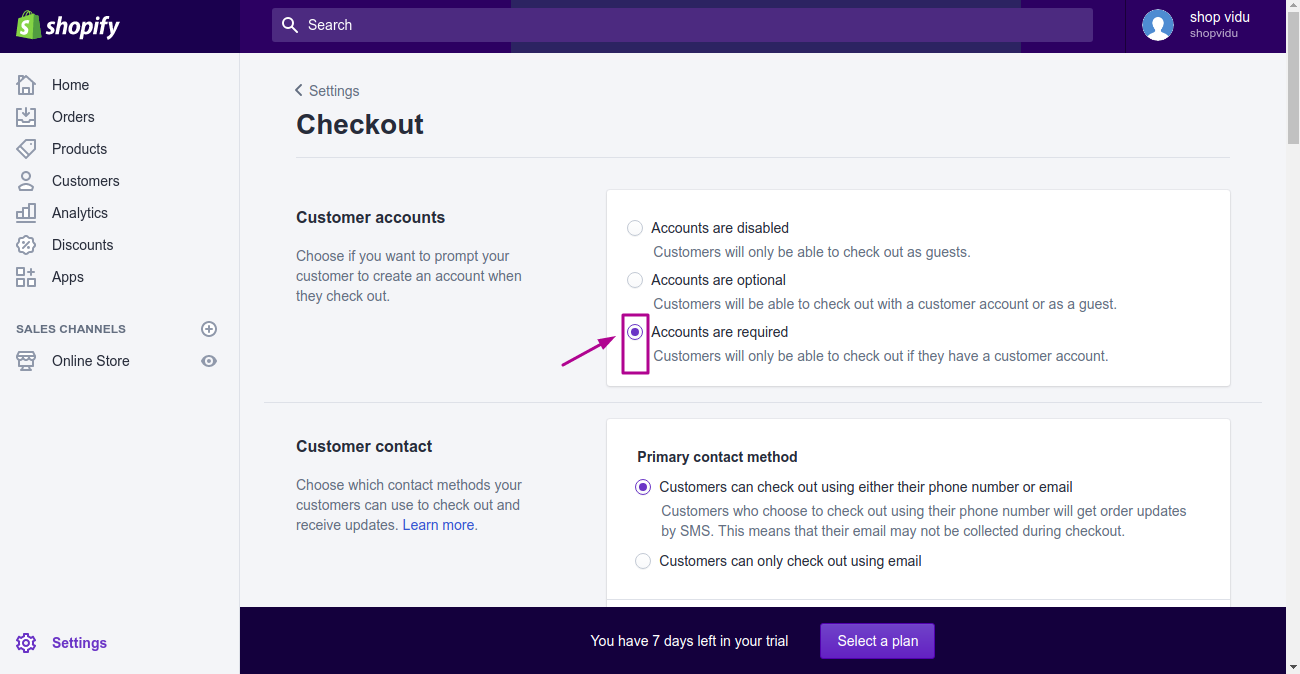 Admin can set agent's Privileges to escape from undesired matters.
Admin or Support Team can automate actions and reduce response rate workflow.
Admin can create/ edit email template to provide the fast and personalized acknowledgment.
Ticket System will help Admin to provide right follow up on the right time.
All the Tickets, Conversations, Information, Shared documents/images/files will be saved in a systematic way into the UVdesk/ Shopify Back Office and in Customer Front.
Admin can create Ticket Types to separate the Tickets.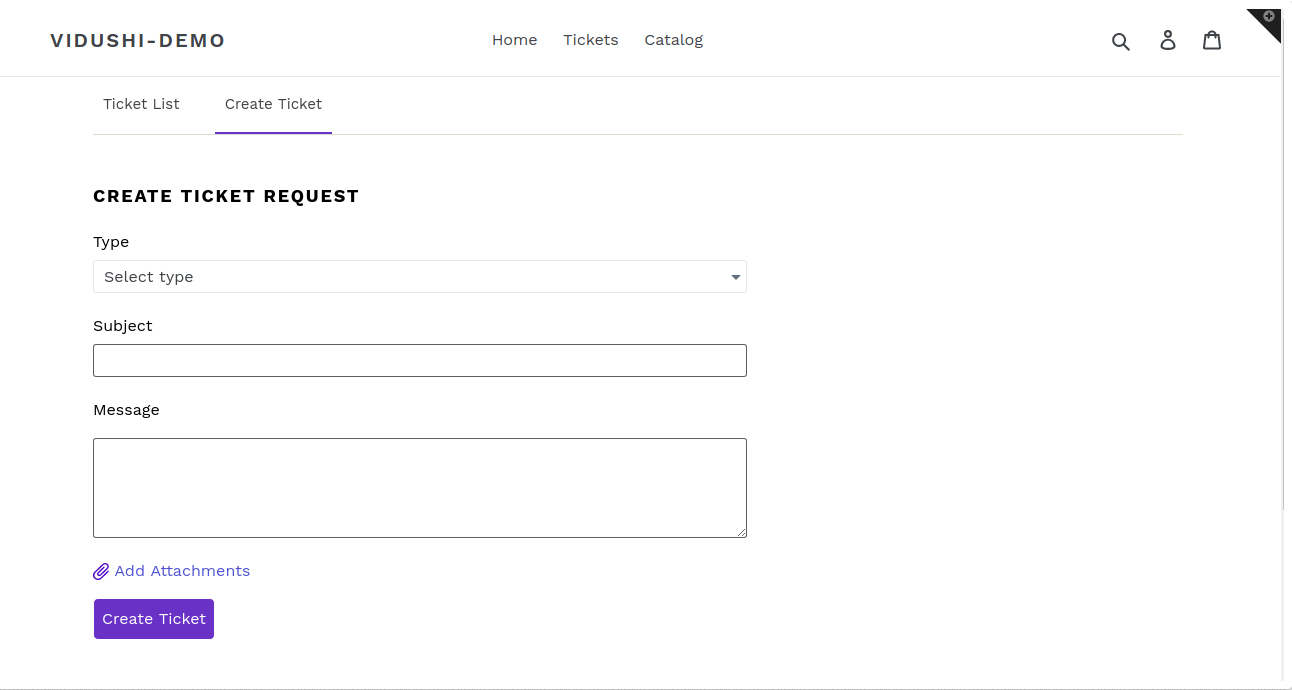 Steps to set up Shopify Helpdesk – User Guide 
UVdesk is a multilingual Help Desk for e-commerce, marketplaces and multichannel which allows various ways to manage all the queries coming from different channels in one place.
Payment procedure of Shopify Helpdesk – Details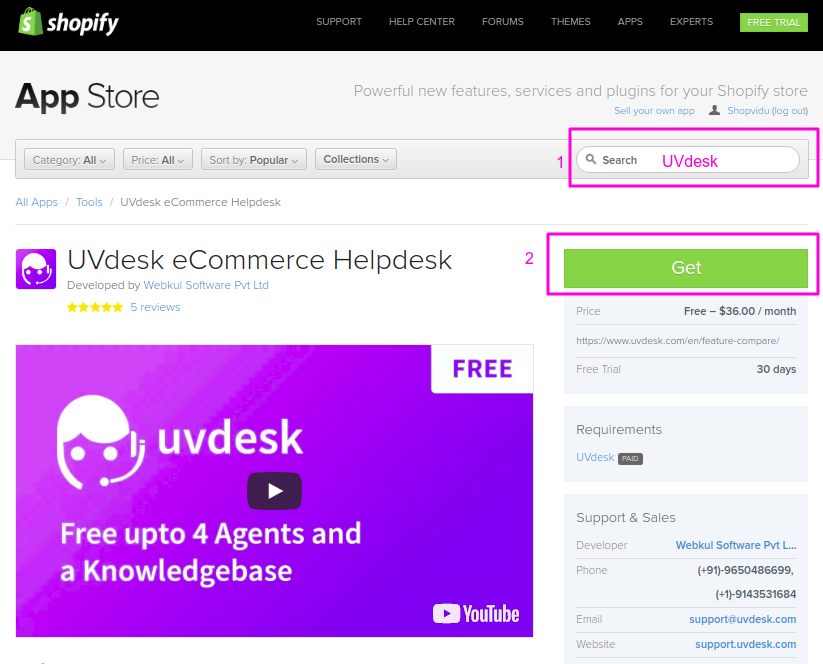 Shopify UVdesk Dashboard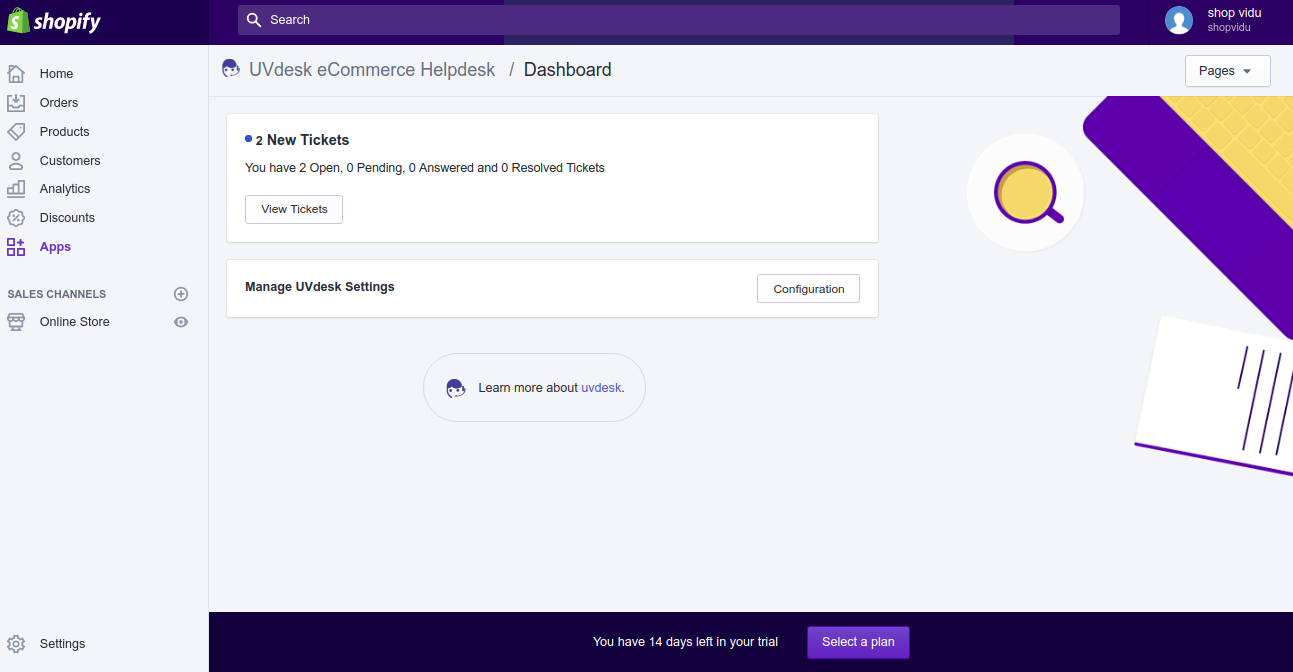 Connect multiple stores with Shopify Helpdesk – User Guide 
If you already have a helpdesk account that you would like to use across multiple stores then using this app, store owners can pre-configure their Shopify UVdesk Connector prior to installing the application on Store.
So that it could be connected with your helpdesk account during installation instead of creating a new helpdesk account.
Real-time order validation for better customer support
UVdesk has unique order validation feature to save time for the genuine customer and to escape from fake queries.
Don't miss any mail connect to Mailbox
With the help of UVdesk Mailbox, you can configure your support email address. Now, coming every email to the configured email address will be converted into the UVdesk Ticket
And this feature ensures that you will never miss out any single lead ticket will remain open until you have not submitted the reply.
Create secure Form and use anyplace
Using Form Builder App of UVdesk you can create a secured form based on your requirement and after creating the form you will get embed code which you can paste anywhere on your website. And every entry on the form will be converted into the UVdesk ticket.
Link website with knowledgebase to reduce Ticket Count
To reduce Ticket/Query count make use of Knowledgebase and link that with your website using Binaka App of UVdesk.
Now your customer can help themselves anytime using your systematic knowledgebase.
If they are looking for something else than your provided article then they can send a message using the Form which appears in Binaka.
Solution for the repetitive query – Saved replies
Saved Replies can be highly helpful in saving the time of your support staff for another deserving customer.
Automate the actions to save your time
Using UVdesk workflow you can automate the process which will help you in reducing response time. Quick response satisfies the customer and which builds trust for your brand.
Connect 50+ apps
You can connect 50+ Apps with UVdesk like Utility Apps, Ticket Management Apps, Translation Apps, Single Sign-On Apps, Seller Central Messaging App, Marketplace Apps, E-commerce Apps
UVdesk allows third-party integrations as well as integrations for the merchants also. It is highly customizable and advanced cloud-based helpdesk which could be fit for any e-commerce business requirement.
Service Level Agreement – SLA
Now with the help of UVdesk-SLA App, you can create SLA and apply that on your support staff to make them more active and attentive for the faster closing of your customer's query.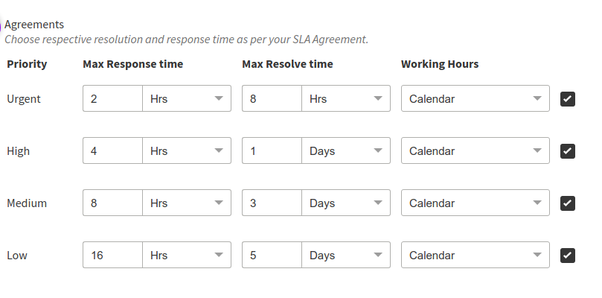 After setting up the SLA your agents will be getting the ticket with the timer for providing fastest support to your customer which will uplift your business along with your customer's satisfaction. This will help you to get positive feedbacks, reviews, and high ratings.
For any query and support, kindly email us at support@uvdesk.com.