E-commerce merchants are using various complex tools almost every day to give outstanding support to their customer like ticket system, helpdesk, feedback form, FAQ & knowledgebase.
In the E-commerce market, you can easily find out million's of solutions for the same when you are searching on Google SERP. Multiple software companies are continuously working way hard to build such kind of connectors, add-ons, and apps, especially for Shopify store.
But the thing is that all solution focus on the distinct business objective. None are directly complete helpdesk system some are for knowledgebase focus and other for only email support and helpdesk based that charged too much for single software.
You can also see some Shopify customer support apps, for a specific business purpose-
Email oriented: Some apps are specially based on only email support like – Happy Email, OrderlyEmails and etc.
Files sharing oriented: Uploadery and some other app in Shopify is simply used to send files over the tickets.
Custom form oriented: To create a form over the website, such kind of apps available from Shopify Marketplace – single Form Builder app, easy contact form app and more.
Knowledgebase oriented: There are some apps are available which are totally based on FAQ & knowledgebase here are some knowledgebase oriented Shopify Apps – HelpCenter, FAQ by POWr and etc.
UVdesk is by far the highest rated and most popular Helpdesk ticket system especially design for Shopify store which offers all the above features including 50+ apps gather in its one software.

Manage all Your Support in one dashboard
We completely realize with the experience of our Merchant's that it's too difficult to manage customer directly from both sides – Helpdesk dashboard and store backend.
By integration with Shopify store with UVdesk e-commerce helpdesk app, Merchant can simply response customer query by applying amazing tools from both panels Shopify store backend and UVdesk dashboard as well.
Now agent and administrator can change ticket status, priority, ticket types and can assign to other agents, team, and group as well from both panels.
Shopify helpdesk app in UVdesk allows to set complete helpdesk system for their multiple Shopify Store.
Store owner and support staff also see the order related details in real time over the tickets to avoid fraudulent and unwanted tickets.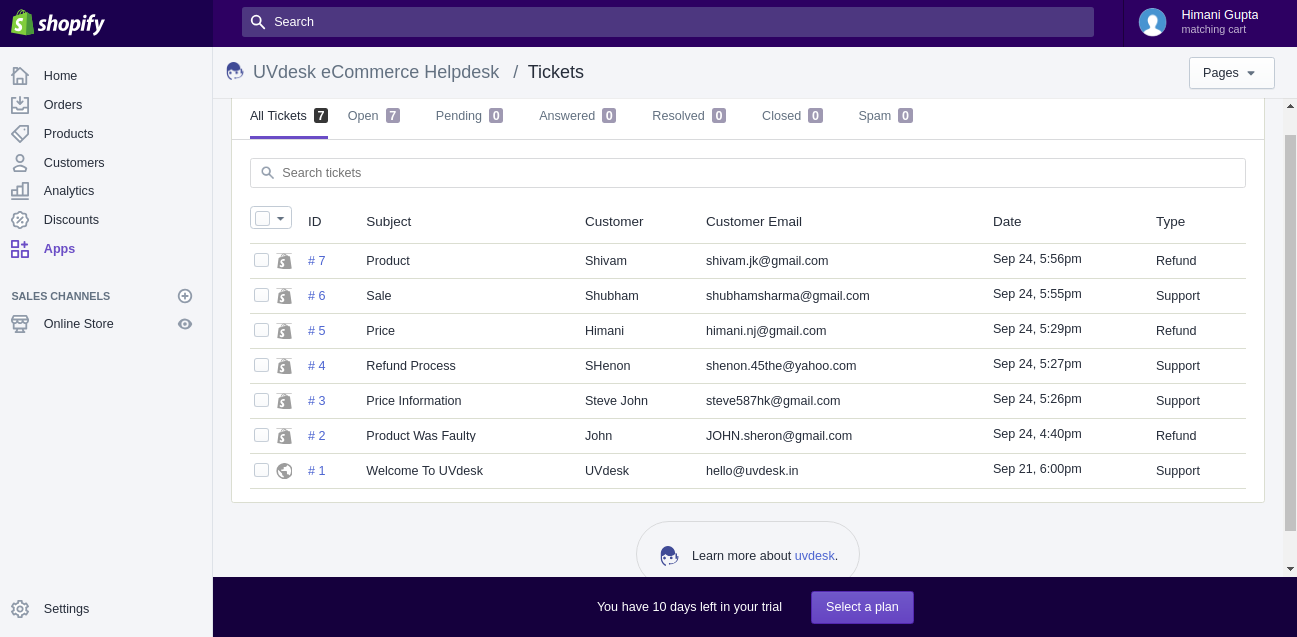 Auto respond to a customer query
As a Merchant, if you don't make a solid effort(automated action) to organize great rules throughout your all-channels customer service, it's going to be a drag.
Automated rules: Automate your processes by creating set of rules and presets to respond faster to the tickets.
Prepare preformatted reply: Save agent workload and time by generating some pre-defined reply templates to the most common queries that will help the agent to answer the question within a single click.
Create manual workflow: Prepared Responses will help to automate few things manually like ticket assignment, changing the status, tags, priorities, etc as per the need.
Customize email template: Pre-Defined email template along with Name, Subject, and Body are sent as an automated response as an acknowledgement.
Serve your customer through Multiple Channels
If you are selling in multiple stores, marketplace and also promote your product and service on social media and might be you have a separate team for that those are handling such department respectively.
In other hands, your customer have the freedom to contact you from any channel either social media, email, marketplace or store.
How your social team respond to customer without knowing the previous ticket information, If customer raised the query earlier to another department.
That's why it is must for all the merchant's having a Helpdesk system which deliver customer support across all the channel that your customer will use.
Right time audit of support agent performance
As an Administrator, it is your responsibility to assess your company's success and find out the complete report of your agent work history within a time period.
There is a need to analyze the efficiency of your team to scale out each support staff performance along with tickets and customer feedback.
Using Reports, you can monitor daily ticket activity across agents in terms of First response time, Fastest Resolution, Number of Tickets Resolved, Count of Customer Helped with ticket Count and so on by selecting weak, month and day in the time range.
Admin can also see total counts in New Tickets, Replied Per Ticket, Tickets Per Agent, Tickets Unanswered, Tickets Resolved.
UVdesk integration overcomes a lot of agent workload by utilizing the UVdesk countless features and makes agent experience more productive.
Make it convenient for the customer to contact you
Almost every consumer wish to get a quick answer and an easy way to find out their answer before going to make a purchase. If they are facing the challenges to search out the wanted answer so this is the sign of losing your customer.
How can you make things more convenient for your customers? Here are three inbuilt UVdesk tools will help your customer to answer inquiry faster –
Knowledgebase: Display a complete description of the primary and common business highlights to the customers over the support panel and fix the doubt beforehand.
Secure custom Form: Build a customizable form using FormBuilder that fits all business needs without coding. Fix the customs form anywhere on the website and create ticket after every form submission.
Knowledgebase fetching tool: By embed Binaka(small lightweight widget app) into your website, users can quickly search through your entire knowledge base to look for any relevant content that may help resolve their query through the widget.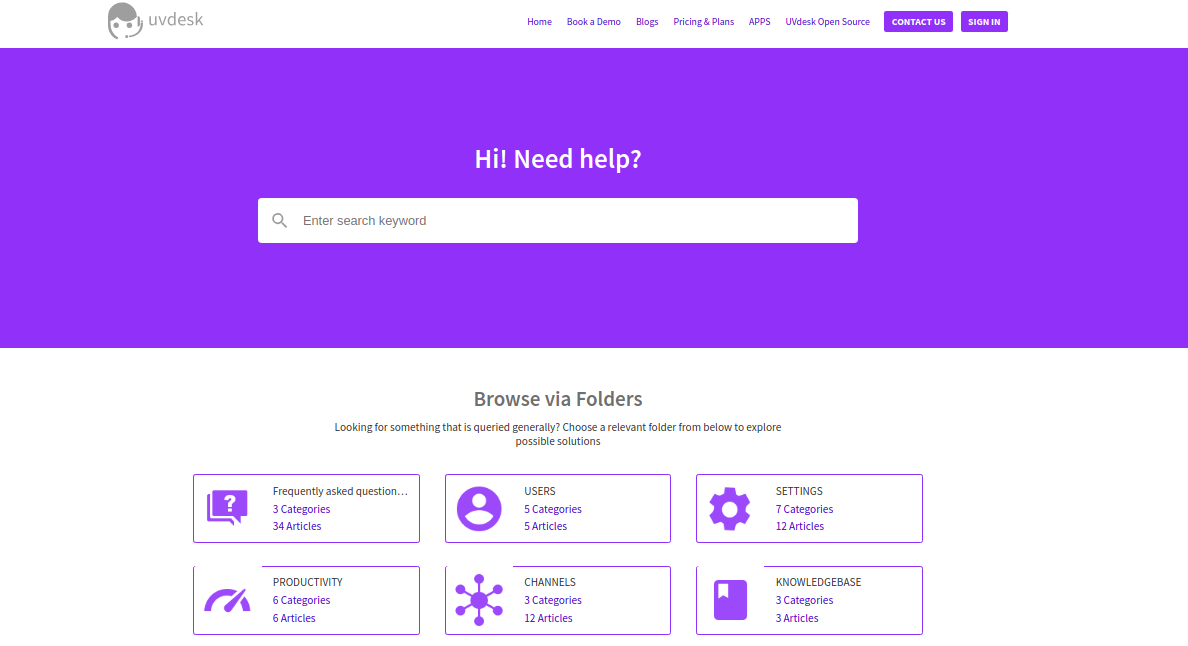 For any query or suggestions get back to us at support@webkul.com or raise a ticket at our Support system.