E-commerce Dropshipping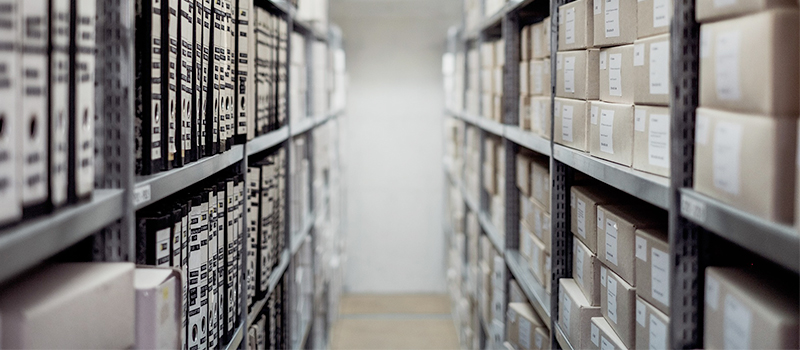 For any kind of E-commerce business, you (as a retailer) need more additional resources for the growth and success of your business. E-commerce dropshipping is one of them. With the expansion and growth of your business, you may not be able to deal with the demand.
Investing capital for Inventory management can expensive and hectic for the retailer. For executing the business in right manner dropshipping could be extremely helpful.
With dropshipping you also can set up automated functions to process the operations. You just need to do few clicks. Then your system will automatically forward the customer's purchase details to your supplier, who will process it and ship it.
Aliexpress Dropshipping 
Aliexpress, one of the famous name, which comes as the solution for dropshipping business. As if now most of the dropshipping is getting done through the Chinese suppliers, provided by the Aliexpress. But every time Aliexpress, is not the plausible solution, What about other suppliers?
E-commerce retailers should give a chance to their local suppliers in order to generate more revenue. So those local suppliers can get the opportunity to sell their goods.
Dropshipping Warehouse Management
Dropshipping is supply chain management method in which retailer does not keep items in stock which he/she whats to sell. Instead of keeping goods in stock he used to forward customer's purchase details to the supplier who then ships the item directly to the customer.
Manage inventory if you are running a dropshipping business is also lengthy, because not only do you have to ensure that your suppliers have enough item in stock, you have to manage your customer's expectations as well.
Improve performance and process time with the right use of Dropshipping Warehouse Management, get the more efficient stocking method to improve all your internal operations related to the inventory.
Any kind of dropshipping supplier can be added, how?

There are many advantages of dropshipping business which could be beneficial in this case also, First, the items could be delivered much faster than your delivery process. Using dropshipping you can reduce the size of your warehouse or even you could get rid of it and, of course, deduction of this cost can save your money.
You will get it up done and also can set up automated functions to process it you just need to do few clicks. The system will then automatically forward the customer's purchase details to your supplier, who will process it and ship it.
Mostly supplier doesn't provide catalog API because of this product management becomes tricky. It creates the problem for the retailer in product data syncing. Suppliers mostly make use of CSV and XLS file for inventory management, if they are advanced they make use of XML feed and API.
Unsupported Data format
There is a unique structure of product upload which has some set of required formate and mostly the file format provided by the supplier and file format to upload the data on store becomes different.
Supplier pushes their XLS/ CSV file using email trigger in order to forward real-time inventory details to the retailer.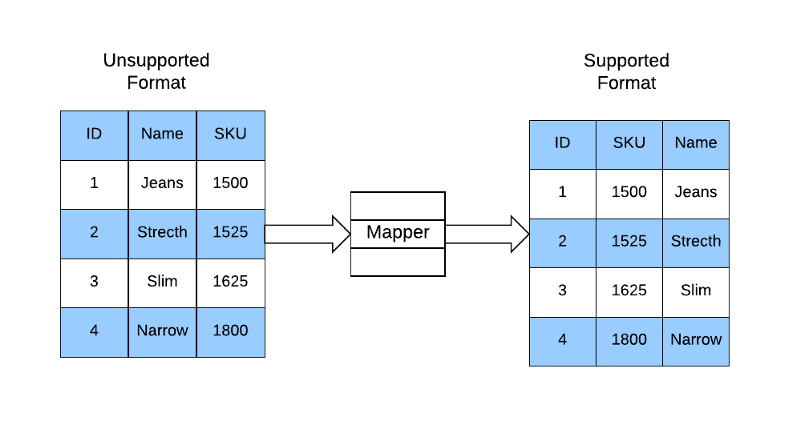 This creates an extra load on suppliers to make use of mapper to convert the non-supported file into the supported file for product bulk upload on site.
Product synchronization
You are not the only one who is dealing with that supplier it might happen he's supplying product to other retailers also. It creates the problem when there is the reduction in product quantity.
Take an example of a supplier Mr. X who is supplying product to retailer A, B, and C. Supplier has  100 units and on every store, product unit is mentioned 100 for selling.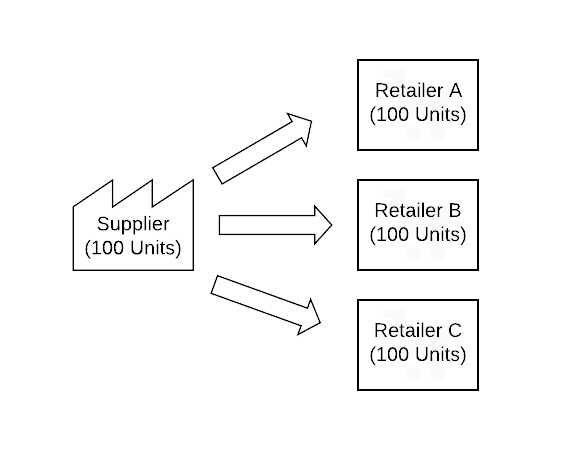 What next?
Retailer C sells 10 units of product. Now on the supplier and retailer C end, inventory has been updated to 90 units but on the other retailer's store, it's showing still 100 units due unavailability of real-time updates.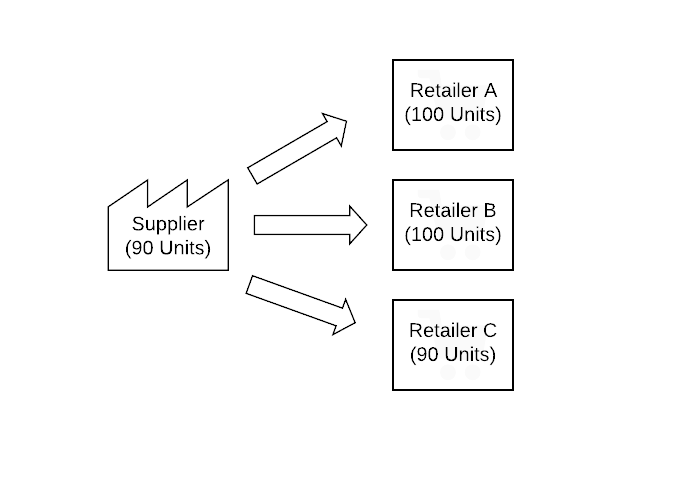 This is the problem for the retailer as he is not getting the real-time update on your inventory system. Then you have to operate it manually for uploading those file on your system after the certain period of time.
Monolithic framework
It's not advisable to perform the bulk upload of product on your e-commerce platform. Performing such operations on your system not only increases your CPU and RAM uses and makes your system slow but also can crash your live website.Avoid the operations which are directly related to your live site.
How can any type of supplier be fit for your business
Here I will be discussing few pinpoints which will be very helpful for dropshipping model business using local suppliers.
1. Choose the supplier who can provide you API and XML feed for managing inventory. You have to ensure it from your supplier that they will provide you better reporting system in WMS regarding product quantity and product return.
2. Let the API and Connectors do the work for retailers in order to give the chance to the local suppliers. If you use our WMS, you can load the file into the system with just one click and your supplier's stock levels will be updated straight on your eCommerce website. It's a simple way to avoid stock shortages even when the stocks isn't actually yours!
3. Software like Akeneo helps you to better Product Information Management. PIM software allows the user to collect the product information in one place. Using Akeneo PIM the user can improve and enhance the product information. And can share the product information to their e-commerce channels.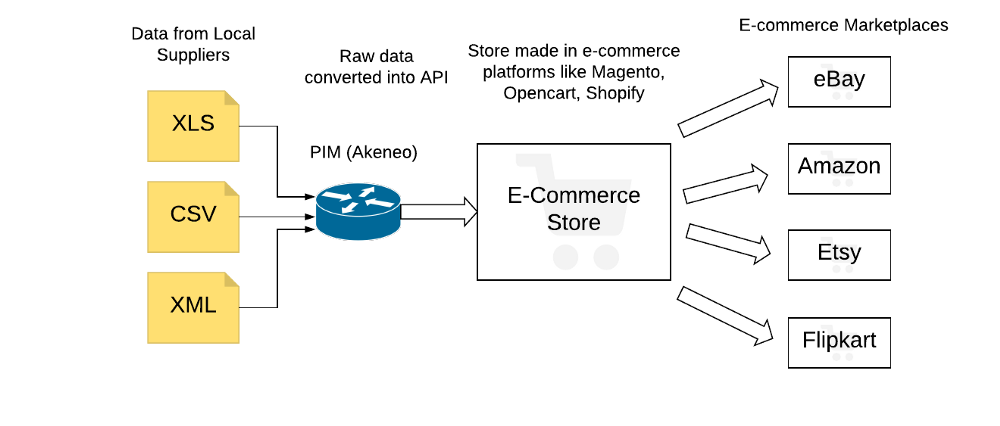 You can try couple of extensions mentioned below – 
WooCommerce Akeneo PIM Connector – With the help of WooCommerce Akeneo PIM Connector module, you can connect your WooCommerce store with the Akeneo PIM software and manage a wide range of products easily. You can import all the catalog data in Akeneo through CSV, XML, and XLS. You can also create the product in the Akeneo and export it to WooCommerce store.
Magento 2 Akeneo PIM Connector – Magento 2 Akeneo Connector allows you to integrate your Magento store with Akeneo PIM platform. Using this connector, the store owner can export catalog information from Akeneo to Magento. You can push the bulk amount of data containing categories, attributes, attributes sets, attribute options, and products.
Now start multi-channel Selling
The secret behind the growth and success of e-commerce business is omnichannel selling. Multi-channel selling is a good strategy in order to maintain business consistency.
Nowadays it's very common and the seller has opted this as a strategy to build a strong brand for generating more revenue. Here I am going to discuss two case
Case 1
Here is Mr. A, who manage inventory through PIM and sells from their website built on e-commerce platforms. Supplier provided data in XLS and CSV files to the retailer. Now, raw data converted into the API by the help of Akeneo – Product Information Management. And the product information automatically getting shared with the e-commerce store.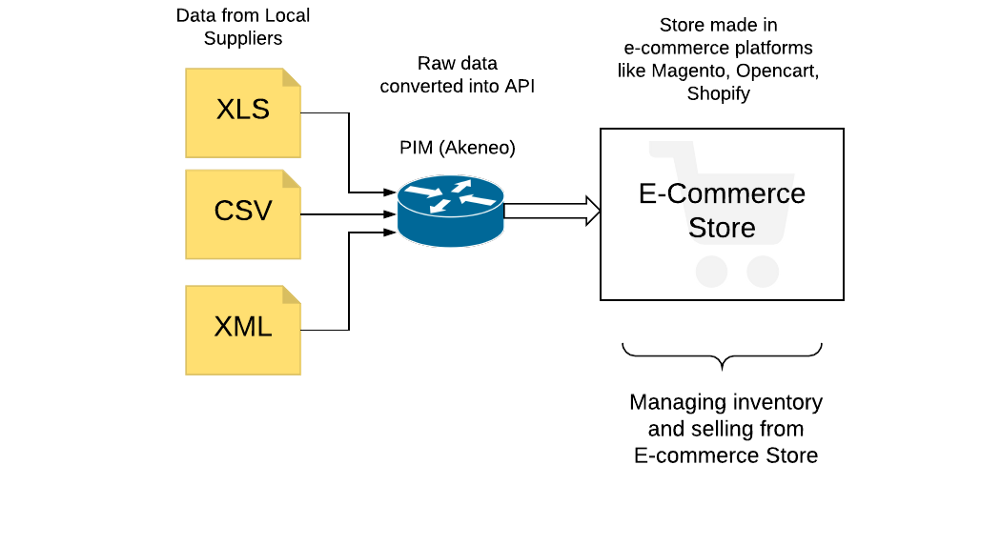 Case 2:
In this case, retailer usually set up their website on e-commerce platforms only for managing the inventory which they get from the suppliers. Using various connectors available in the market with e-commerce platforms, they connect their stores with Amazon, eBay, Etsy, Flipkart etc and sell products from these marketplaces.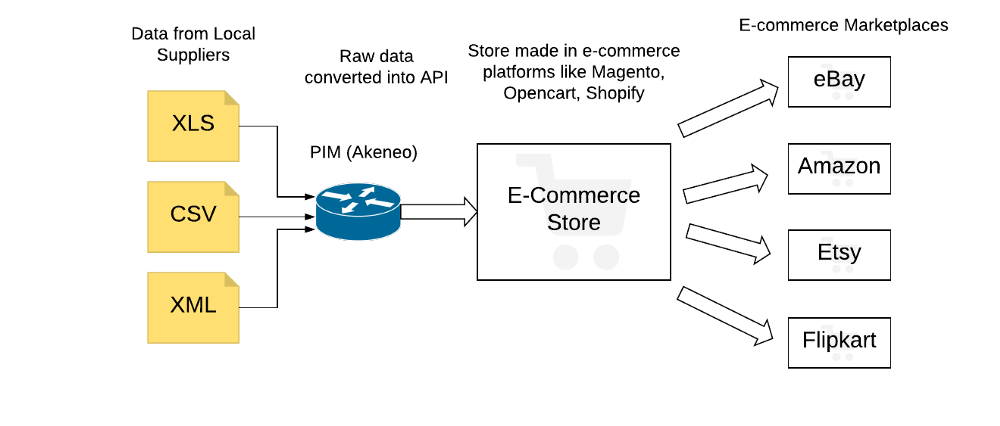 This all was the process to deal with warehouse management system. For any kind of e-commerce, there must be a panel from where your customer can raise their query to get efficient customer support.
UVdesk is an e-commerce helpdesk with multi-channel support and a wide array of features to help you provide quick & reliable customer support.