Shopify is the most leading eCommerce platform for merchants to build an online store without technical abilities. Shopify merchant should pick the right Support Ticket App for Shopify to deliver better customer support experience – Try UVdesk eCommerce Helpdesk.
Convert the support inquiries coming from various channels (Contact Us Forms, Email, Social Media Channels, eCommerce Stores and many more) generated as a Service Ticket to receive, route and manage the support operations to deliver flawless customer support.
Configure Multiple Email Address with Shopify Ecommerce Helpdesk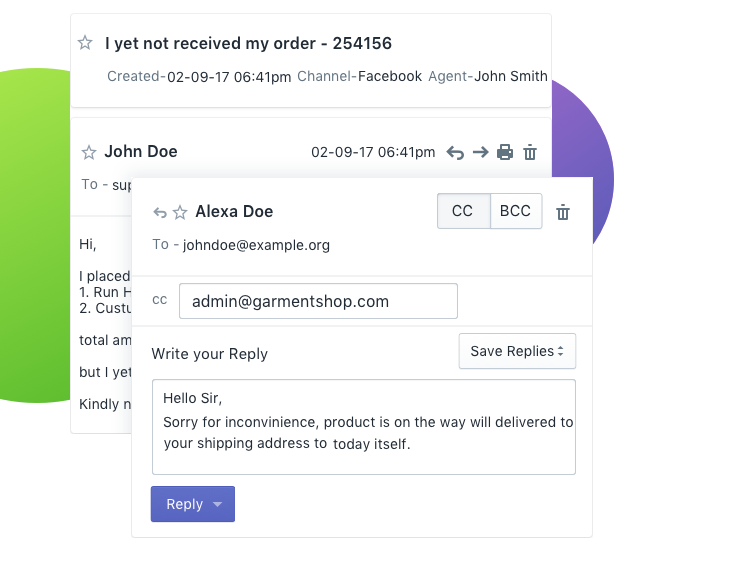 Configure multiple email service providers with one platform to convert your support query emails into a standard ticket to provide all-around support and better assistance.
Integrate Various Marketplace with Support Ticket App
Integrate multiple marketplaces with UVdesk to support your valuable customer eg-Amazon and eBay.
eBay Help Desk –
eBay Order Integration Fetch the order details directly from your eBay marketplace to your helpdesk ticket system for real-time order validation to provide fast and efficient support.
eBay integration will create tickets for any important platform messages that you'll receive on eBay as an eBay Seller, such as Order Feedbacks and AskSellerQuestions to provide you with various ways to tackle ticket/query count.
Amazon Order Fetch App –
Amazon App integration allows fetching the order related from your Amazon marketplace to Ticket System for real-time order confirmation.
Amazon Ticketing System –
Amazon Seller Central Messaging App will convert the messages of the customers into the Tickets at UVdesk and you or your support staff can reply to the customer's queries directly from the UVdesk.
You can see the reply made by the customer and the support staff in one place and it will make the response time fast and management would be easy.
This app provides various Amazon Sellers with an ability to interact with their customers directly through the existing help desk system.
eCommerce Multi-Channel Integration
Growing the online business using a single eCommerce platform is really hard in throat cut competition henceforth merchant has to offer their products on multiple channels to expand the business and generate more revenue.
UVdesk eCommerce Helpdesk allows you to connect multiple eCommerce Channels like Magento Prestashop WordPress OPenCart, Cs-Cart, Joomla, etc in a single system to sync all the coming inquiries and routing them to the dedicated support agent for the better resolution of the support requests.
Form Builder – Create Secured & Customizable Forms
Create a customizable form that suits the business requirements of the users without coding. Embed the custom form anywhere on the website and generate tickets after each form submission.
Merge the default labels and custom labels together to create a new form as per your requirement and embed the code easily into the HTML codes of their website and then this app will work seamlessly when any user will enter data in the form then the ticket will be created on the UVdesk automatically.
Build multiple Forms for different purposes to convert the submit created as a support ticket into your helpdesk system to improve the overall support process.
Binaka – Light Weight Quick FAQ Support App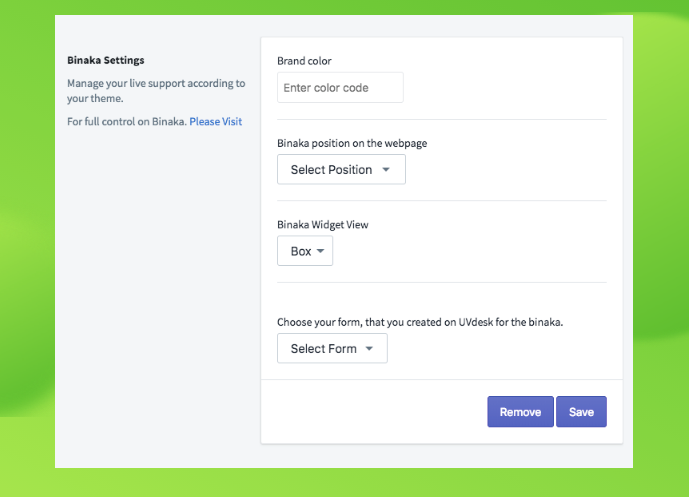 Binaka is a dynamic app of UVdesk Helpdesk which will provide quick support to the users on the website which is integrated with knowledgebase or FAQ ( Frequently asked questions ).
You can filter FAQs as per the keywords and get instant results. It can also turn into a Contact Form so that you can communicate and get your query solved.
The users can also create tickets with the help of Binaka App. It makes use of the Form Builder App and you can customize the form as per the requirement.
Task Creation – CRM Tool to track the work
Kind of CRM Tool to assign the work and track the work – progress to deliver the best possible support to the customer and this section is allowed to the professional expertise/group of the helpdesk system. In accordance with the threads (thread wise) tasks can be added to the tickets to various support agents.
Shopify Helpdesk – UVdesk is Available in best price
UVdesk eCommerce Helpdesk for Shopify Merchant is available at the best price with all the features and benefits required to support Shopify Customers, every business is unique so their support handling processes are also different we're here to customize the helpdesk and make it fir for your purpose.
Conclusion –
UVdesk is the Complete eCommerce Help Desk for Shopify Merchants and available at the best price with all the features and benefits to allow them to sell on multiple channels and keep delivering exceptional customer support using UVdesk Helpdesk.