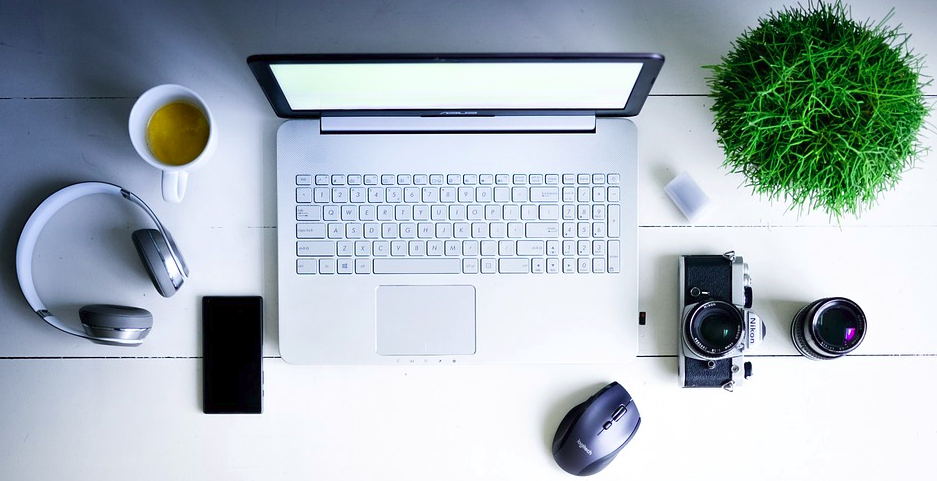 Utility tools make your task easy and less time consuming using which you can quickly respond to your customer's inquiry. It saves your time and increases customer satisfaction too. And helps you in developing customer engagement which can be a big deal for your business.
Customer after sending the tickets waits for the replies, fast replies will thrust them ask and clear their more doubts. After clearing their doubts or query you will be having a good chance to suggest them a plausible solution to your targeted decent proposal.
This could be very close opportunity for you or your support staff to convert a lead into an opportunity. Even you can ask them for feedback and for rating your support which will add value to your business as new or new customers always check the reviews and rating.
Nowadays the all what customer require actually that is a good customer service because they don't have much time. If the customer support will be superb they will be able to get what they wish.
Customer support panel is the only medium through customer shares their pain-points to get the right remedy. So a great customer panel has a lot to gain again from their customers by providing them an efficient solution and by healing their main points.
Using UVdesk you can deliver great customer support in an instantaneous way using its hallmarks, advantages, appliances, and tactics.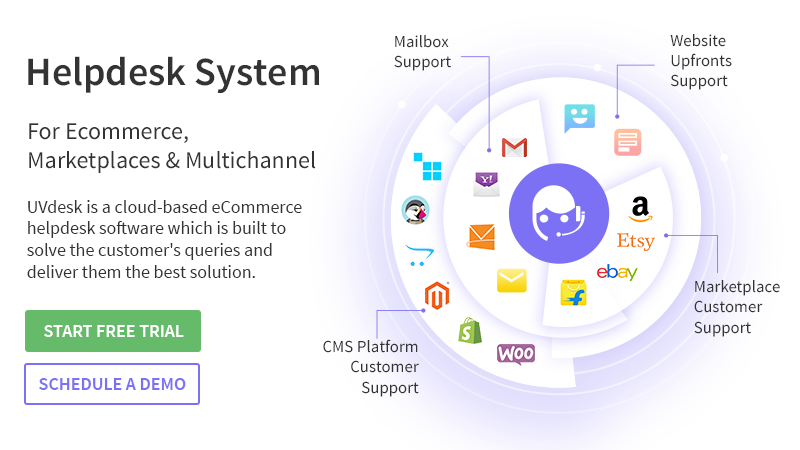 UVdesk is a SaaS-based complete e-commerce helpdesk system. Which allows their users to manage all their customer's query coming from different channels at one place.
As this is a SaaS-based helpdesk so the user does not need to store the UVdesk on their system or server, simply sign up and start enjoying its features and benefits.
All the data stored with UVdesk will remain safe and you can refer that for further reference which you can't guarantee if you are saving on your system.
This is a great helpdesk because Webkul has developed it based on all their past 8 years experience in e-commerce field, dealing with multiple B2B and B2C businesses.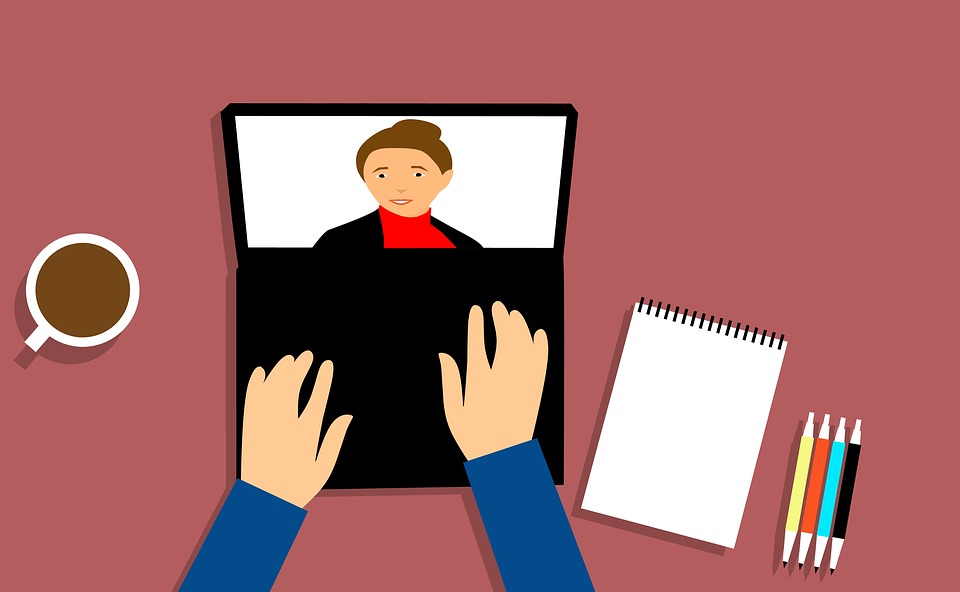 UVdesk is packed with all the features and robust tools which are required for any kind of e-commerce business. If you would like to get the feature or tool which is currently not available in UVdesk, we can add that too.
Notes On Customer
Notes on the customer can contain common information about Customer which will be visible on all Tickets of that Customer to all Agents.
This App can help you in providing Smart Support to the customer. It is an effective way to keep Customers information instead of asking customer same information for every Ticket.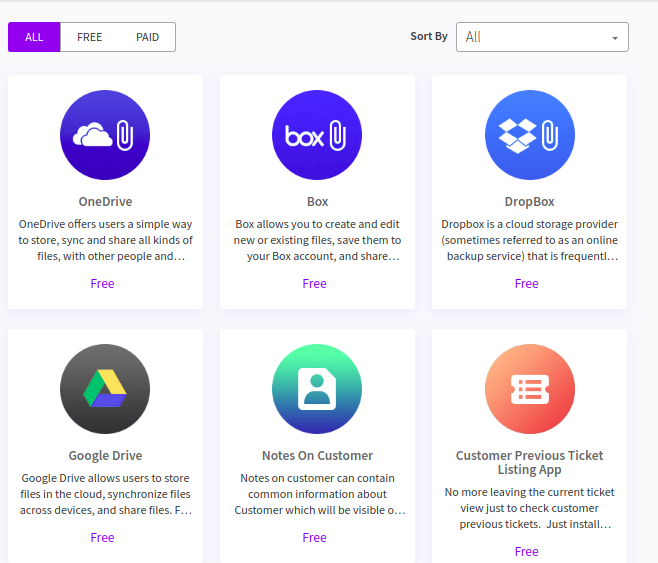 Customer Previous Ticket Listing App
No more leaving the current ticket view just to check customer previous tickets. Just install Customer Previous Ticket Listing app and then you will find the icon of this app on top of every ticket view.
On clicking this app icon, the support staff or the agent can see the list of existing tickets of any clients without leaving the current ticket view or opening any new browser tab.
ToDo App
When the support staff has enormous tickets, then the support staff may miss an important point for any ticket which may be needed to resolve the issue or the support staff can also make a list of work which needs to be done on that ticket to fix the issue.
This way no important point will be missed and each and every part will be looked upon and fixed.
In UVdesk Helpdesk, there is an app called ToDo App which the support staff or the agents can install and then they can add a list of work/task which needs to be done on any ticket. That list will be only visible to the support staff only.
Your own checklist: Prepare the list or notes on the particular ticket based on the work and never miss out any important point related to the ticket work. Delete the to-do list after the work completion.
Multiple Lists based on the need: Create multiple lists on the ticket for the various scope of work so that all the factors can be covered.
File Viewer App
UVdesk Helpdesk has implemented a new feature called File Viewer, in which the support staff and the customer can either view the document directly or they can download the document into their local system and then they can view the document.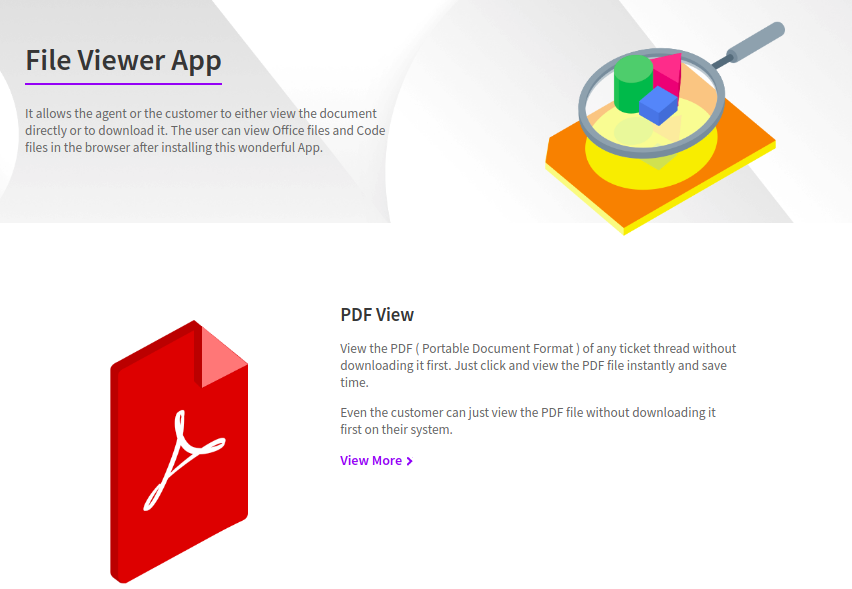 With the File Viewer, the support staff can instantly view the document and prepare the reply and work efficiently.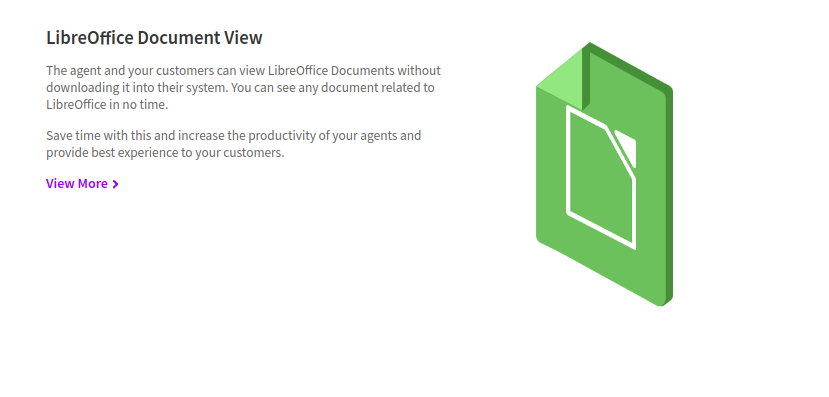 The "File Viewer" is a small feature but it has a huge role to play for the support staff and the customers. It not only saves your precious time, but it also makes your helpdesk look standard with advanced feature of "see and download" files.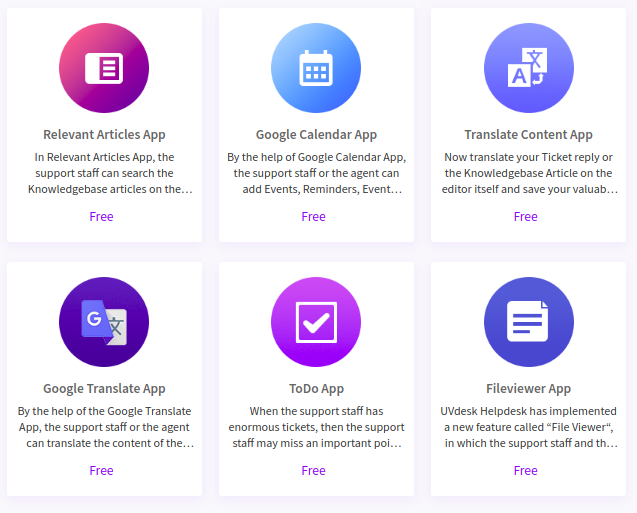 Google Translate App
By the help of the Google Translate App, the support staff or the agent can translate the content of the page in the desired language.
Language should not be a barrier and so we have come up with Google Translate App. Google Translate App works on all the pages of UVdesk.
Example
If you are on the Ticket List View page and you want to change the language of that page from English to German, then you can Select Language drop-down on the top of that page and select German. Even if you will go to some other page, then the content of the visited page will get translated into the German language.
Translate Content App
Now translate your Ticket reply or the Knowledgebase Article on the editor itself and save your valuable time with the help of  Translate Content App.
Just enter the content in your desired language and then select the language in which you want to translate the ticket reply or the Knowledgebase Article and it will be done.
Translate Content App saves a lot of time of the agent as the translation will be done on the same page and there will be no need of copying the complete reply and pasting on another editor for the translation.
OneDrive
OneDrive offers users a simple way to store, sync and share all kinds of files, with other people and devices on the Web.
For providing endmost customer support you will be always in need to keep and share files of different size. You can add attachments from you OneDrive Account with the no size limit.
OneDrive integration with UVdesk is a new notion and troublefree to set, then you will be able to keep or share files that too without size limitation.
Box
Box allows you to create and edit new or existing files, save them to your Box account, and share them with others.
Integrate Box with UVdesk and start delivering ultimate customer support by sharing files without size limitation for complete information.
DropBox
For providing ultimate customer support you will need to share files and attachments. After setting up DropBox App, You can easily attach files from DropBox in your tickets and replies.
Dropbox integration with UVdesk is a unique concept and easy breezy to set, then you will be able to share file-sharing services that too without size limitation.
Google Drive
Google Drive allows users to store files in the cloud, synchronize files across devices, and share files. For providing superior customer support you will be always in need to store files in the cloud, synchronize and share files so Google Drive is here to do the same without size limit.
Order Fetch
UVdesk Helpdesk is integrated with eCommerce platform by which you can get the order details of any order id from any eCommerce platform like Amazon or eBay.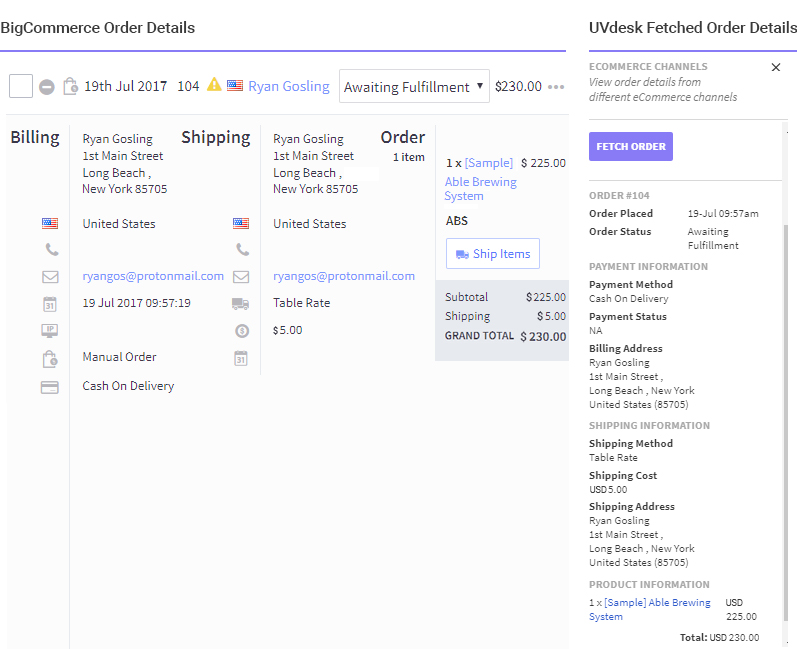 The customer at the time of ticket creation can enter the order id and the name of the eCommerce Marketplace from where the purchase was done and then eCommerce App will fetch the data like shipping address, payment info and other info in the ticket system for the better assistance.
Other Tools
After the installation and configurations of the apps, the support staff can see the tools on the individual ticket which will overcome the workload of the support team.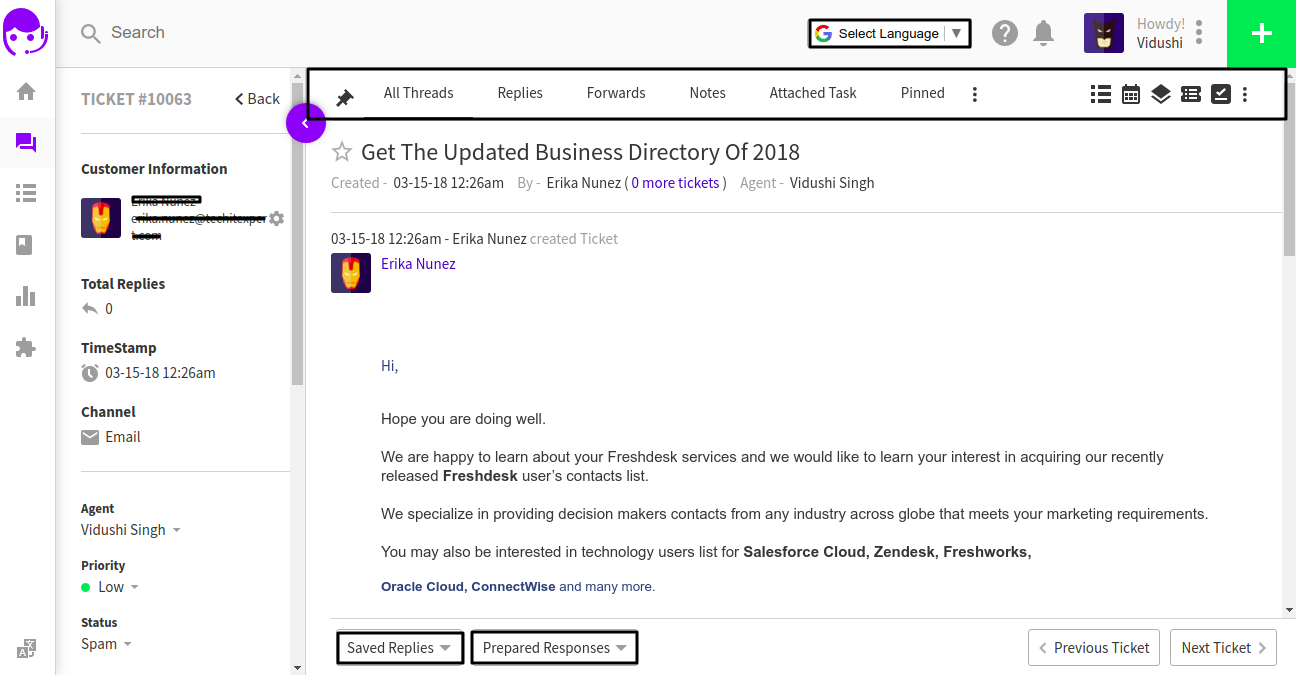 Few tools accessible on ticket answer inset to soothe your works.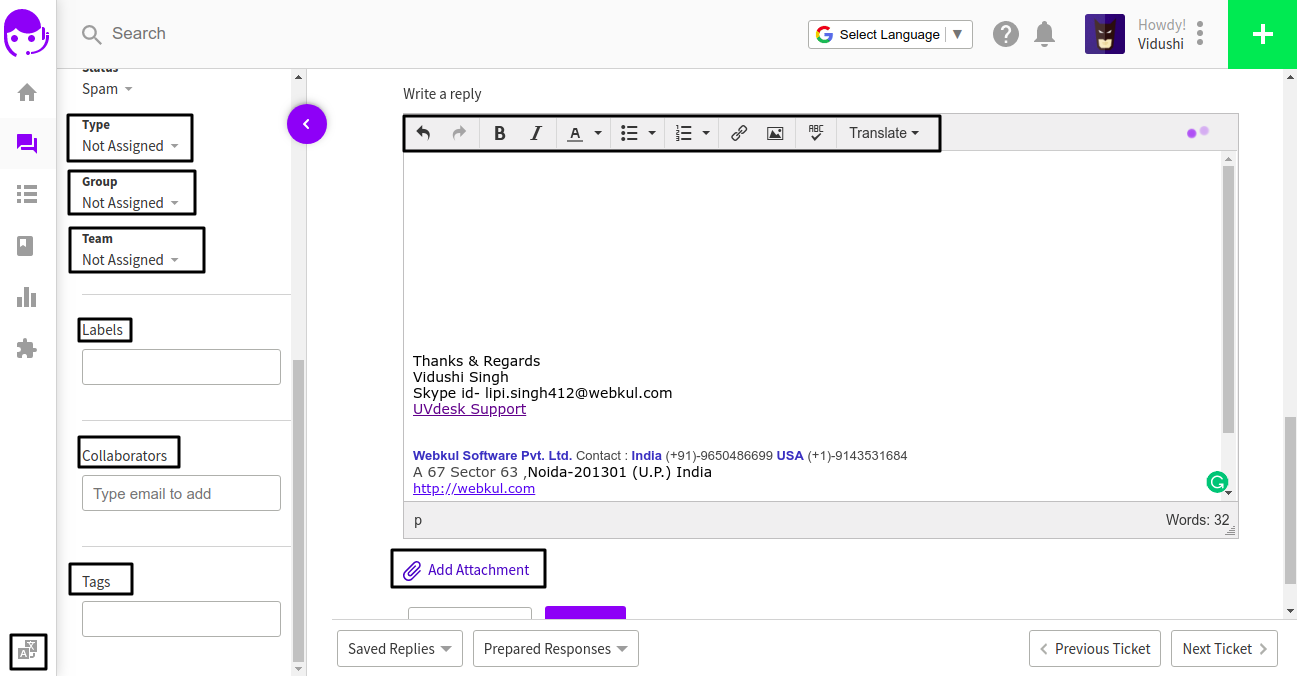 In the case of any doubt, please email us at support@uvdesk.com and we will surely come up with the best solution possible.