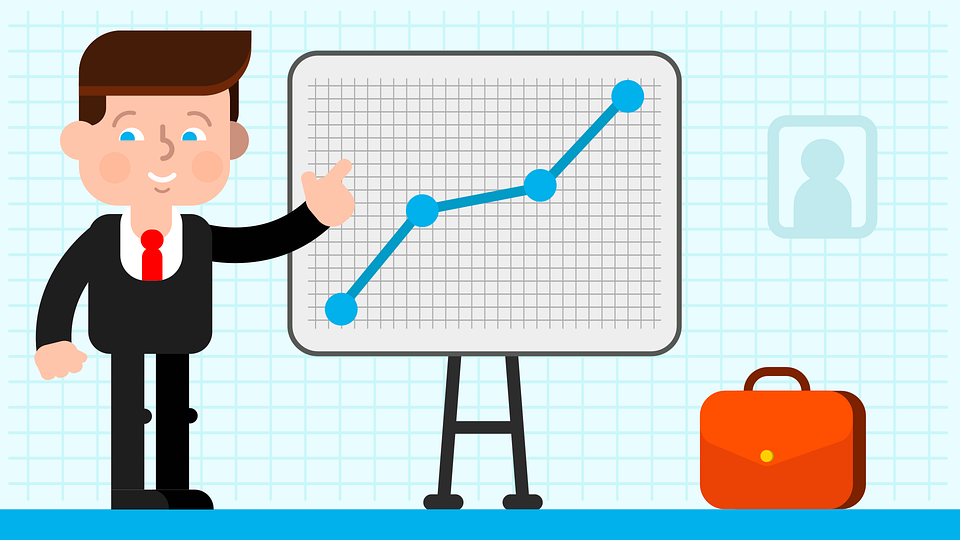 Don't let your customer know about your support system with the fast and dramatic changes in information technology, especially in last one decade, has given the new concept of marketing.
E-commerce is exponentially increasing with many extensions like B2B, B2C etc. This new way of carrying out business has led to cut-throat competition with the smooth flow of goods and services.
Customer requirements are the main focus and thus every possible limit is pushed to stay in the competition. Customers know about goods and services sitting at home. The manufacturers, distributors, and services providers allow consumers know about their products quality, price, size, color etc. Through multi-colored catalogs on various websites.
Customer support is one of the most advanced feature added to run through the customer's mind. Through this feature forecasting is made, customer's queries are solved and it serves as an extended support and UVdesk provides a platform to carry out customer support in the most sophisticated and advanced form.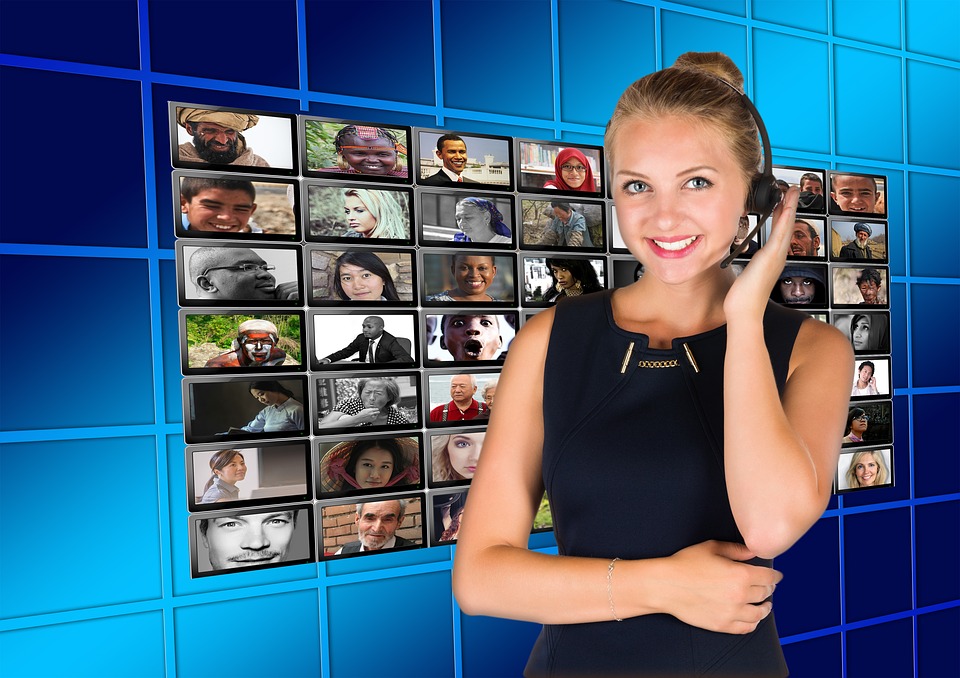 What's the need of helpdesk system?
The customer is the only key to thrive or run any business so their satisfaction has become a most important part of any company or business instead of being an option. Though it's a good marketing strategy to push the efforts to engage or retain your customer in place of making the new one.
Right customer dealing can be a promotional tool also because it increases positive word of mouth. As we all know the importance of feedback which we get only after good customer service or for the great product.
Nowadays before making a purchase all most, every customer go through the feedback for that particular product, company or service. Positive feedback exposes your brand ability to new eyes.
Few key points just for clearing the importance of Helpdesk are drafted below:
Sellers are selling on multiple platforms to reach out more customers and also for generating the good amount of profit to enhance their brand power. So there must be different email ids, social channels and lots of queries to answer on right time which is not possible through traditional emailing system
With the growth and development of your business, you will be having the good count of your regular customer and you may be aware of their requirement it would be quite good to treat them in the perfect manner with their all earlier details so that they could feel special. But you can't do this with the traditional method.
Next point how will you manage the files and attachments of your customer and support staff in case you are in need to check that. Will again you scroll that long email threads to get any particular file. Here your traditional method will fail.
How many times your customer has raised the issue? Where will you get all the conversation between your staff and your customer? Here you will be in need of helpdesk.
How will you authenticate whether the query is genuine or fake?
How will you check on which query your support agent is replying?
How will you gather feedback or review?
How will you track unanswered or pending query in real-time?
How will you manage multiple email service provider altogether?
There is some limit of your system and it's hardware, how will you manage this?
How will you get to know about the comments, feeds, post and tweets of your customer?
How will you stop that repetitive task which you are performing
How will you provide support if your customer's language is different from yours?
How will you create multiple types of form suiting to your business requirement?
How will you automate your work process with the traditional method?
How will you filter the emails with specific keywords such as agent name, customer name, type, date, priority and etc?
Helpdesk is not going to deal with your customers only it manages approx all your work operations easily. If you have kept an agent to manage all this thing then I am very much sure that it will be time-consuming and there could be mistakes also. And you may lose your customer.
UVdesk is a complete e-commerce helpdesk with multi-channel support, multilingual support, progressive web application and a wide array of features to help you deliver fast & efficient customer support. It has been built based on our experience in e-commerce sector and dealing with b2b and b2c businesses.
Helpdesk not only provides customer support but also it manages your customer, staff and it's performance, multiple channels, query, feedback, right follow up in a systematic, fast and efficient manner with the use of robust automated tools to ease your task.
A great helpdesk must be highly customizable and multilingual to be fit for any type of business and it's requirement. Because every business has it's own unique requirement so the helpdesk must be customizable in order to provide reliable customer support for that particular business.
Why do helpdesk users want to hide the name of helpdesk?
The answer is very simple that helpdesk users just want to make all the process clear and convenient for their customer without making them confused.
How can you provide support to your customer without knowing them about the system?
UVdesk is a complete e-commerce solution which is enough to deal with all the requirements described till now and it's customizable also so there is no need to be the worry. I am drafting out few amazing features of UVdesk that how can you support your customer by hiding the name of your support system.
Branding- Either you can disable your front end website and knowledgebase for your customer(s) or you can customize as per your own business need.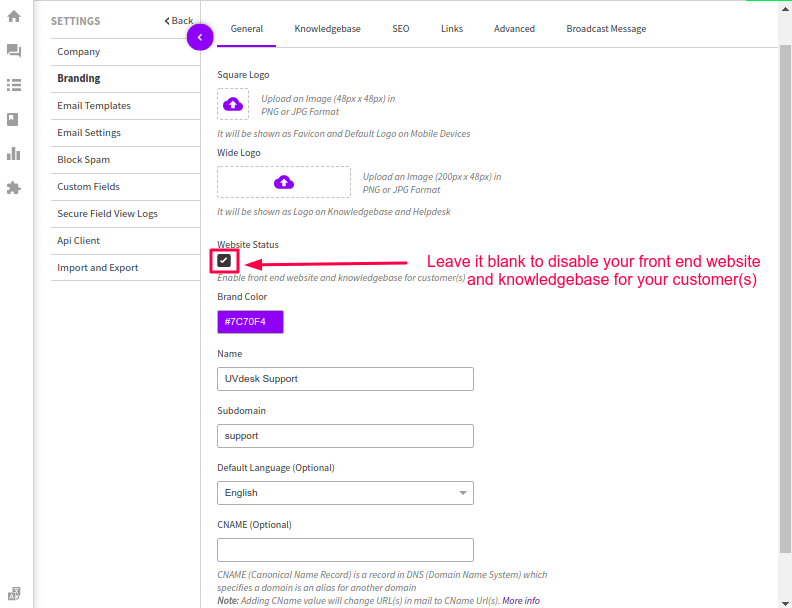 Mailbox– You can configure your multiple email service providers with the mailbox and every query coming to your respective email id will convert into the UVdesk ticket and the reply from your support staff will also go through the specific mailbox on which query has raised.
Email Template– You can create, edit or customize your email template as per your own business requirement. This email template you can use while automating your work process in order to acknowledge your customer or support staff for the next step.
If you don't want to let your customer know about the automated response then you can create a very simple email template to acknowledge them that you have received their raised query.You can set your own company logo, image, and signature.

Form Builder App – It allows the user to merge the default labels and custom label together and create a new form as per your requirement.The user can embed the code easily into the HTML codes of their website and then this app will work seamlessly.
The user can manage the forms easily. When any customer will enter data in the form then the ticket will be created on the UVdesk automatically. This is the specialty of Form Builder App. None of your customers are knowing that where this form has been created.
Social Media Apps – Now you can integrate your social media apps with UVdesk in order to solve your customer's query coming from your social apps like Facebook, Twitter, YouTube, Slack, Disqus, Social Login App. Every post, comments, and feeds will convert into the UVdesk ticket. Now you can respond to your customer's social activity related to your company whether it is positive or negative to improve your relevancy.
Multi-channel Support– UVdesk Helpdesk provides customer support through multiple channels like email, website, forms, social media channels, e-commerce or marketplace channels etc.

When we discuss marketplaces then Amazon and eBay come to the top. And the more interesting thing they show the ratings on the front which can be highly beneficial for your company. You can create a simple email template and can automate it using workflow which will increase you fast response rating.
Workflow Management– Admin can automate the process so that he should not repeat the same work, again and again after the certain interval of time, using some set of events, conditions to perform an action.
You can edit or add workflow as per your own need and also either you can edit the template used in workflow or you can create a new one of your choice.
Workflow is not only automating your task even it's improving your company's  image in the eye of your customer.
Form Builder App– Create beautiful and effective embed custom form on any website or platform which suits your business requirements. You can create contact forms within a few minutes. The reason being is so simple that you don't have to write CSS or HTML. It's easy to use because of the following facts- No coding required, Highly flexible and Secure.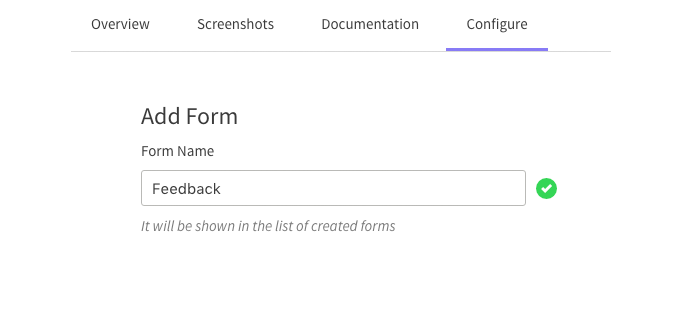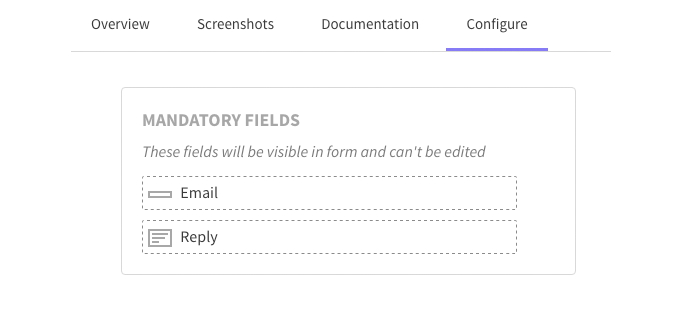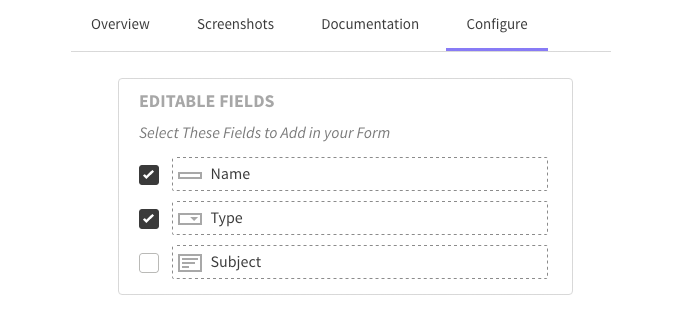 Binaka App– It's is a small lightweight widget app that connects with your company's knowledge base, which can then be easily embeded into your website to provide your users with quick support. Once embeded, users can quickly search through your entire knowledge base to look for any relevant content that may help resolve their query through the widget.
Seller Buyer Chat App– Power your helpdesk system with Seller Buyer Chat and provide better quality support. Provide instant support to your customers by enabling your customers to talk with designated agents over chat establishing a real-time communication between the customer and agent.
Ticket Administration– To manage tickets coming from different channels there are multiple tools like ticket priority, labels, tags, task, agents, type, status, and collaborator which will make your work easy and faster.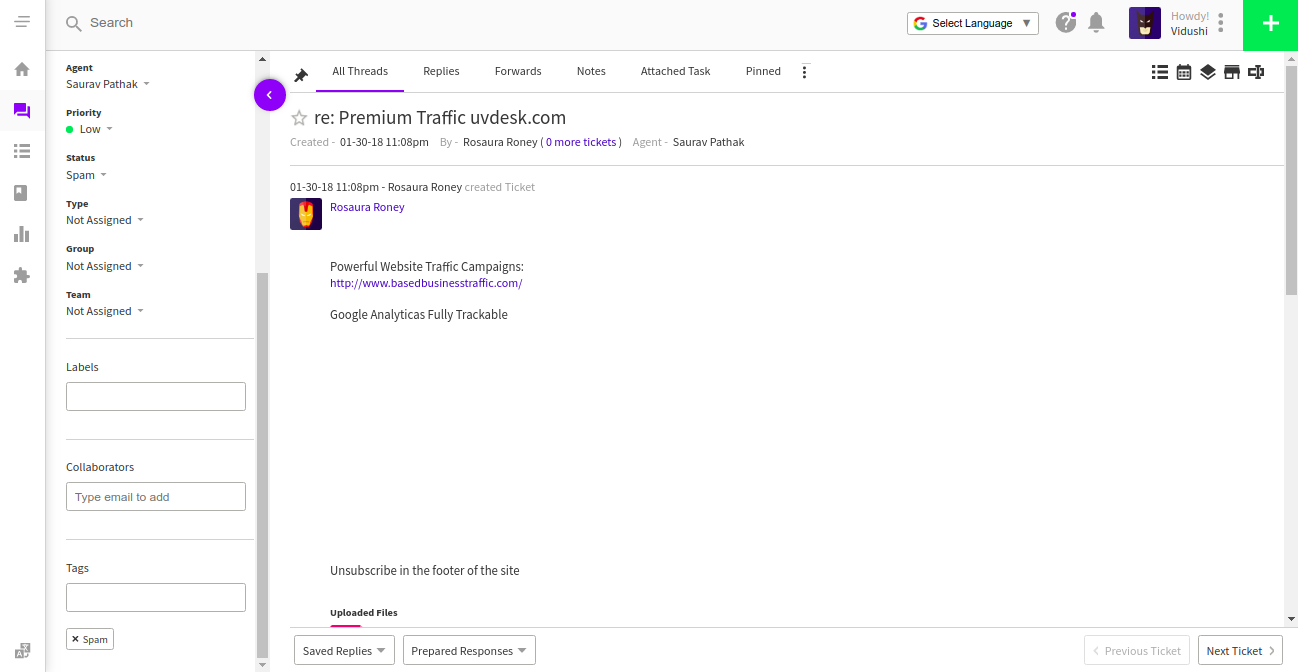 Examine Agent's Performance– You can quickly check the performance of any of your agent using Agent Insight option which will uplift your customer support to the next level.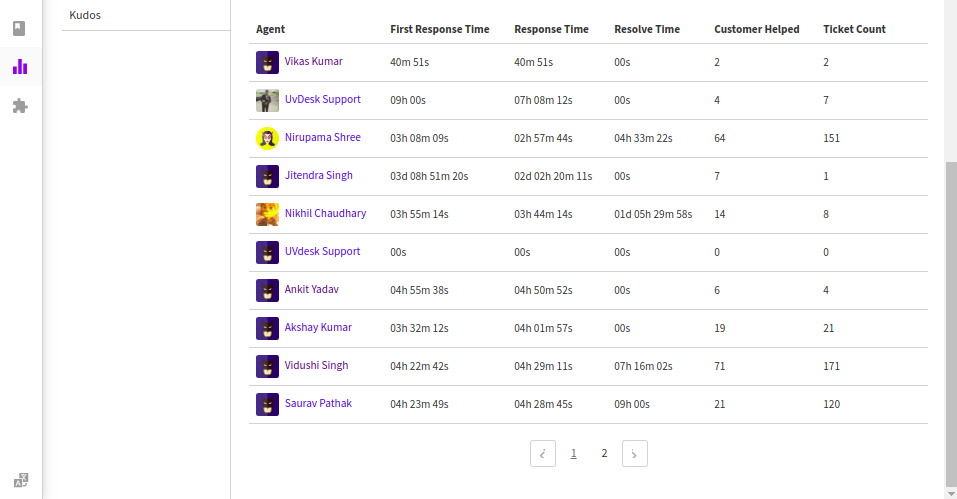 File Viewer App– No need to search and download files, again and again, using this app every file which has been shared between agent and customer can be viewed anytime on the ticket.
Import Data– Import the data like agents, tickets, teams, groups, customers from the third-party helpdesk ( Zendesk, Freshdesk, osTicket, Help Scout) to UVdesk effortlessly.
Email Management– You can configure your email id with UVdesk in order to convert all your customer's email into the UVdesk ticket.
Knowledge-base– You can create knowledgebase, FAQs for your customer so that they could help themselves.
PWA (Progressive Web Application) – With the latest upgrade to PWA, now you can use UVdesk seamlessly on your smartphone like a native mobile app with features like offline syncing, mobile view UI, faster page load and addition to the home screen.
E-commerce Helpdesk Connectors– We have built few plugins which user can buy for free. So that they can provide great customer support from their store backend.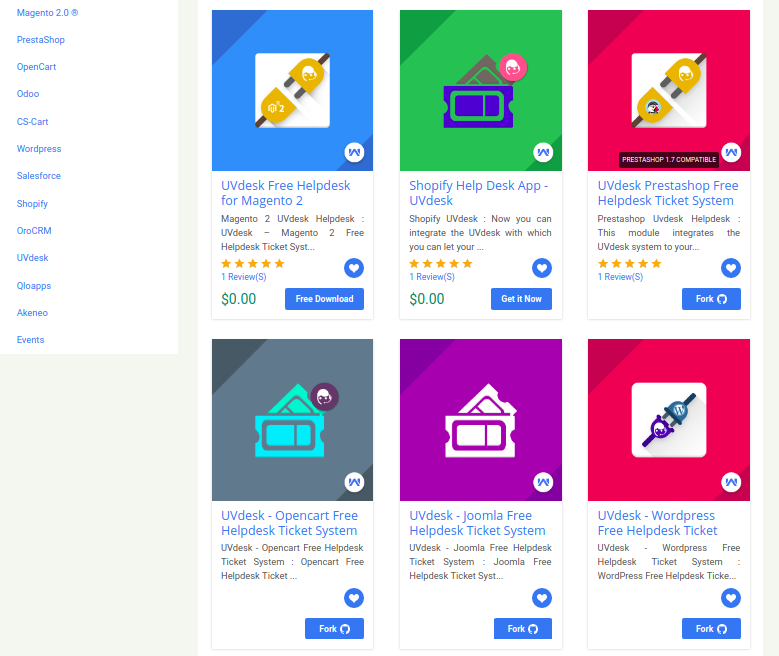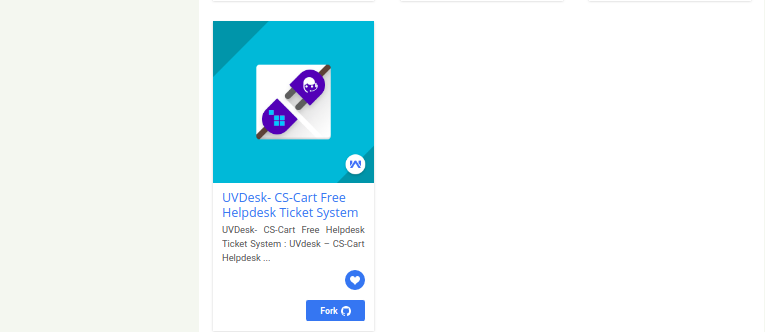 Note – We provide customizations in Pro and Enterprise plan, in order to check plans and pricing click here – Pricing 
In case of any doubt and query please email us on support@uvdesk.com we would be happy to assist you.